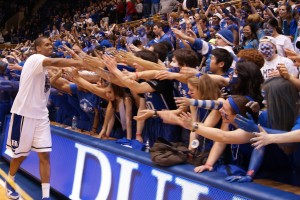 Durham, N.C. - Marcus Ginyard scored the first point of the game but from then on, it was all Duke.  In fact, it was a good old fashioned butt whipping.  When the dust finally cleared on what must have seen like a night that lasted forever for the Tar Heels, Duke won a share of the ACC regular season with a 82-50 win over their arch rival.  Duke finished up the regular season with a 13-3 mark in conference and 26-5 overall.
There was just too much Duke for North Carolina on a night when Jon Scheyer, Lance Thomas, Brian Zoubek and Jordan Davidson played their last game ever in Cameron Indoor Stadium.  Add ESPN Game Day to the mix and students at their very best as well, but there is more.
Duke was an impressive 22 of 23 from the free throw stripe and they outscored the visitor 27-6 off turnovers and had eight three pointers while North Carolina had just one.  Kyle Singler was Duke's leading scorer with 25 points, while Jon Scheyer and Nolan Smith added 20 apiece.
Duke captured their 19th ACC regular season title.  Duke set a school record with a 17-0 home mark.
We'll have a complete recap on Sunday and interviews are on the way, so stay tuned for quite a bit of coverage.