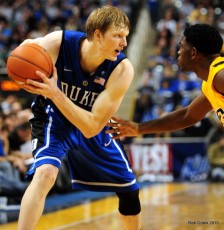 COLLEGE PARK, MD - You can generally count on Duke to bounce back after a shocking loss and there was even more concern as they travelled to Maryland to play in a hostile environment.  The Terp fans were ready, rocking their yellow t-shirt's and as usual there was a their smoldering atmosphere as the hated royal blue clad Blue Devils rolled into town
But once the ball was tipped, the Blue Devils proved to be focussed early on and resiliant each time the Terrapins tried to mount a comeback on their way to a comfortable 80-62 win.  In fact, Duke was obviously having a lot of fun on the court, getting everybody involved in a great team effort.
That effort pleased Krzyzewski as well.  "This was our best win of the season," said the upbeat coach.  He knew that Maryland and Gary Williams could set a trap and that they were fighting for an NCAA berth.  He also knew that confidence is a fragile thing, especially after their woeful performance in New York against St. John's.
But that game seemed like a distant memory the second Mason Plumlee scored the first basket of the game on his way to a double-double of 12 points on 6 of 7 shooting and 11 rebounds.  "It was Mason's best game of the year," stated Kryzewski in a simplified yet firm manner.
Krzyzewski had to be happy with the play of his senior leader Kyle Singler who moved into sole possession of fifth place on Duke's All Time Scoring List.  Singler totaled a game high 22 points and he was there to hit several key shots down the stretch while playing with 3 fouls for much of the game.
His senior side kick Nolan Smith added another 21 points in front of his home folks in the D.C. area and another local, freshman Tyler Thornton added spark with an unexpected start.
It was clear that the Blue Devils had come together as a team and a solid ACC road win puts them right back on track and atop the conference race and they remain in contention for a top NCAA seed in March.  Perhaps the loss this past weekend was just what the doctor ordered for Duke was solid in all facets of the game.
Duke came out attacking the post and they out rebounded the Terrapins and that eventually led to open looks from the three point stripe where they went 10 of 23 for 43.5%.  Andre Dawkins and Seth Curry hit 5 of 9 of them by more importantly, they seemed to mature and grow into their roles for this team.
The bottom line is that this was a satisfying victory for everybody involved and it took everybody being involved to win.  Duke hopes to build on this impressive victory with another against N.C. State this weekend and with North Carolina suddenly nipping at their heals, winning that game is a must.
Duke v. Maryland BoxScore   Associated Press Game Story  Real Time Team Stats
OFFICIAL GAME NOTES
Duke's win gave them 20 on the year, the 15th straight season they have won at least 20 games and 46th time in school history.
In the month of February, the Blue Devils have now won 13 consecutive games dating back to an 80-74 loss at Boston College on Feb. 15, 2009.
Duke has won eight of the last nine games in the series with Maryland, including both games in the series this season. Head coach Mike Krzyzewski earned his 50th career win over Maryland, improving to 50-21 all-time against the Terps. 
Over the last four seasons, Duke is now 15-2 when following a loss. The Blue Devils have not lost back-to-back seasons since 2008-09. 
The Blue Devils have had a 20-point scorer in each of the last 17 games.  
Duke has now scored 80 or more points in 16 games this season. They have won 31 consecutive games when scoring at least 80 points. 
The Blue Devils shot over 50 percent in both halves for the fifth time this year. It was the seventh time this season they have shot at least 50 percent in the first half. They have shot over 50 percent in the second half in 15 games. 
Duke won by 18 points despite shooting 11 fewer free throws in the game. It is just the fourth time this season they have made fewer free throws than their opponent. 
With only eight turnovers, Duke has committed fewer than 10 turnovers in three of the last four games and eight overall contests. 
This was the first game this season the Blue Devils did not record a blocked shot.  
The Blue Devils made 10 three-point field goals and now have made 10 or more in nine games this season.    
Duke was able to build a seven-point halftime lead despite three of its starters spending significant time on the bench due to foul trouble. Ryan Kelly only played five minutes after recording three fouls while Nolan Smith missed seven minutes of action and Kyle Singler sat for five minutes with two fouls each. The bench provided 12 points in the first 20 minutes. 
Singler scored 11 straight Duke points in the second half from the 16:52 mark to the 8:22 mark.  
Player Notes:
Seth Curry
Sophomore Seth Curry recorded his second game this season with at least five assists, finishing one shy of a season high.
Andre Dawkins
Sophomore Andre Dawkins finished with 11 points to give him 11 games this season with 10 or more.
He made three three-point field goals, including two in the second half for nine points. It is the eighth time this season he has made at least three treys in the game.
Mason Plumlee
Sophomore Mason Plumlee tallied his fourth double-double of the season with 12 points and 11 rebounds.
Plumlee has reached double figures in scoring for the sixth time this season. It was his first game with 10 or more points since Jan. 5 against UAB. 
He has notched at least 10 rebounds in seven of Duke's eight ACC games this year and 11 overall contests. In ACC play he is averaging 11.1 rebounds per game.
The two steals gave him six multi-steal games on the year.
Kyle Singler
Senior Kyle Singler drew his team-leading 90th consecutive start and has now started in 132 of his 133 career games. The 132 career starts ranks sixth most on Duke's all-time list.
Singler recorded his ninth 20-point game of the season which is tied for second most in the ACC. He has scored in double figures in 116 career games and 21 of the 22 games this season. His 116 double-digit scoring games rank fifth on Duke's all-time list.
With his 22 points, Singler moved into fifth on Duke's all-time scoring list, passing Danny Ferry. He now has 2,166 career points. 
Singler also continued to climb up the ACC career scoring list, passing Sam Perkins (North Carolina), Len Bias (Maryland), Ferry and Len Chappell (Wake Forest) into 19th all-time. 
He matched a career high with 10 made field goals, the sixth time in his career he has made 10 shots. 
Nolan Smith
Senior Nolan Smith reached double figures in scoring for the 21st time in 22 games this season. He has 80 career games with 10 or more points.
Smith posted his ACC-leading 12th game with 20 or more points. He has 29 career games with 20 or more and has scored at least 20 in five of the last six games. 
He was a perfect 7-of-7 from the free throw line and is now shooting .961 (49-of-51) from the foul line in ACC games. 
It is the 13th game this season that Smith has posted at least five rebounds. He has eight games this season with 20 points and five rebounds.
Tyler Thornton
Freshman Tyler Thornton  drew his first career start, becoming the ninth different Blue Devil to start this season. Thornton had played in 19 games and averaged 8.7 minutes per game coming into Wednesday's contest.
Thornton dished out three assists in his first start, the fourth game this season with three or more assists.
He also had two steals to give him six steals in two games against Maryland. He now has 11 total steals on the year.