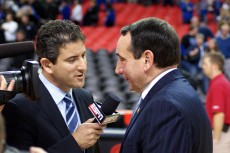 When the new college basketball Top 25 comes out later today, you'll see the Duke Blue Devils take a significant jump to either the number two or three position. That's because Duke Basketball is winning and doing so against a schedule that has featured some of the nation's top teams. Already this season, Duke has registered victories over the then-#2 Kentucky, #2 Louisville, not to mention a Minnesota team picked fifth in the very difficult Big Ten and a pesky Virginia Commonwealth team nobody purposefully schedules.
We're not even out of the month of November and Duke is probably the most battle tested team in the country, and if not, they're close to it. Coach Krzyzewski is at his best when faced with stiff challenge, and he'll face another this week when Ohio State comes to town for the ACC-Big Ten Challenge and they, too, will be ranked second or third in the country, setting up yet another prime time matchup of Top 5 teams.
There have been many factors contributing to Duke's success thus far. Senior leadership quickly comes to mind, as Mason Plumlee, Seth Curry and Ryan Kelly are providing years of experience. Playing in their final season at Duke, the trio seems committed to not permitting another early out, and their memories from the loss to Lehigh have obviously made them work to make sure it doesn't happen on their watch.
Already, Mason Plumlee is showing that his off-season work is paying off; there is no place better to start than his improved free throw shooting. That shooting has made him a 20-10 point and rebound guy to date, but he has also been very efficient. But the most important thing is that he is avoiding untimely and unnecessary fouls much better than in the past, and he has seemingly learned how to play while in foul trouble.
Seth Curry came into the season battling pain from a recurring injury, and it was thought that his time could be limited.  But he toughed it out in the Blue Devils three games in three days in the Battle for Atlantis. Curry has been steady and confident and like Plumlee, a solid free throw shooter. He is playing like a leader and he is playing in what seems like a happy place.
A happy place, you say? Another key for these Blue Devils has been team chemistry. Krzyzewski most recently said this team seems to like each other and the melding of personalities is always a plus. And here is where we talk of Ryan Kelly, who has also showed an improved game, mainly on the defensive end where he's gotten some key blocks. Kelly has not had one of his better offensive games yet, but he's been solid and twice led the team in assists.
Another major factor in the quick start for Duke has been the emergence of point guard Quinn Cook. All he's done to date is win the MVP of the Battle for Atlantis in what might be remembered as his coming out party. Cook is aggressively taking on the role of the team's quarterback and while still a work in progress, it's clear that he's here to stay. The next step for Cook is handling expectations and staying humble and steady, and if he's up to that challenge, Duke will win a lot more games.
You know that Krzyzewski is also pleased with the play of freshman Rasheed Sulaimon, who has started as a true freshman and put up nice numbers in a most unselfish way. Sulaimon gives Duke a great on-ball defender, a penetrator and a scorer and you can just see how much potential he has. Sulaimon just fits and makes his teammates better, and that's the kind of guy that is always welcomed.
The Blue Devils have also gotten good minutes from a much improved Josh Hairston and the always steady influence of tough nose Tyler Thornton. And while some want to point to a lack playing time and try to spread various rumors, I see it as a positive that Duke has two other freshmen in Amile Jefferson and Alex Muprhy that can develop, and they'll have that chance in a stretch of home games coming up.  And we didn't even mention Marshall Plumlee, who I expect will be ready to see game action shortly after sitting out with a foot injury.
So, there are plenty of early season positives for Duke, but the one which is most evident is an improved defense. That is an area the Duke staff has obviously worked on the hardest, and that work has paid off.