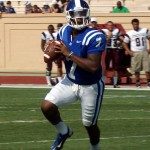 The Duke Blue Devils Football team got their 2013 season off to a great start by shutting out North Carolina Central University 45-0 on Saturday in Wallace Wade Stadium. It was the Blue Devils first shut out at home since the 1978.
Duke had seven different players score on a day when they showed off their growing depth under the watch of David Cutcliffe. The Blue Devils rushed for 257 yards as their offensive line pretty much had their way all day which allowed the team to move to 1-0 going into their road game with Memphis next weekend.
One of the concerns going into the season was how the Duke Quarterbacks would fare with the departure of Sean Renfree, but Anthony Boone and Brandon Connette were up to the challenge.
Boone who has started just one game at Duke until today was an efficient 16 of 20 for 176 yards and his play drew the praise of Cutcliffe in the post game interviews.
Connette was 5 of 8 and two of those completions went for scores, an opening score touchdown to TE Braxton Deaver and a 19 yard pass to Issac Blakeney. Both Boone and Connette added touchdowns on the ground as well.
Jamison Crowder electrified Wallace Wade with a 76 yard punt return for a score to go with six catches for 62 yards and Ross Martin kicked a 39 yard field goal.
Jela Duncan led the Blue Devils in rushing with 76 yards on 11 carries and the other score which helped Duke win with ease.
Cutcliffe praised his defensive staff after the game and for good reason in that they held the Eagles to just 184 total yards.
"I'm very pleased and happy for our defensive coaches and our defense who has had some difficult times," said Cutcliffe.
If you were grade the win, a solid "A," would be appropriate in that the Blue Devils imposed their will while playing a lot of players. They did not overlook their opponent and they looked solid in almost every aspect of the game save some minor miscues.
It's hard to take a whole lot out of an opening day win but it was impressive that Duke handled their business and that should excite the fan base as the schedule toughens.
Check back in for more game coverage and thoughts and player post game interviews.