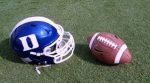 The 2017 Duke Blue Devils football teams opens their season this Saturday against North Carolina Central in Wallace Wade Stadium. Kickoff is at 6:00 and a few tickets remain for the contest at GoDuke.com.
What to look for -- new names
Duke is coming off a 4-8 season and if David Cutcliffe has his way, the team will rebound this season and go to their fifth bowl game in six seasons.
The Blue Devils will be breaking in some new players against the Eagles, where they have eight true freshman on their depth chart. Among those are Victor Dimukeje, Drew Jordan and Derrick Tangelo up front on the defensive line.  These young men will all play a significant role this season.
Duke will also feature Michael Carter II and Marquis Waters as true freshman in the two deep in the secondary.  Redshirt freshman Xander Gagnon and Myles Hudzick will also be high on the depth chart and get some snaps on the defensive side of the ball.
On offense true freshman Deon Jackson is currently fourth on the depth chart at running back but will see some action.  Duke will also play offensive Rakavious Chambers (Fr 6-3, 325) on the offensive front for some snaps.  Duke is strong at the TE spot this season which makes it more impressive that true freshman Noah Gray moved to third on the depth chat.  Cutcliffe said he would be seeing special teams action as well.
What to look for -- Veterans to be more consistent on offense
Daniel Jones is entering his second season as a starter and should be much more familiar with the offense.  Jones is no longer a secret so teams will come after him but Duke should be able to block effectively with some veteran players up front.  Cutcliffe also said that he would play his young depth a lot in the trenches as well.
Duke has a veteran leader in Shaun Willson in a better offensive backfield than most realize.  Still, the key to success will be establishing the run and a good deep passing game.
While Duke loves to stretch the field with their short passing game, veteran wideouts and competition at the position should allow them to improve as a unit.  The top target is T.J. Rahming and there are players with both speed and experience who play with him.  Daniel Helm will also see plenty of targets from his TE position.
What to look for -- Defense
Well, I have already mentioned the youth in the trenches above, but veterans Mike Ramsay and Edgar Cerenord will have to have a big season.  Cutcliffe  said both DT's  had s great spring and pre season camp.
The Blue Devils will have one of the ACC's best linebacking corps where they are deep at the position.  Ben Humphreys and Joe Giles Harris are the main strength for the defense and will keep the Eagles honest in game one.
There is more concern in the secondary where many new players are breaking into the rotation.  Jeremy McDuffie made major strides in the off season but will be playing with a cast vs the Eagles.
Duke is no longer afraid to kick a FG
Games can be won or lost via the kicking game.  A season ago Duke likely lost a game or two due to momentum sapping missed opportunities.  This season, they seem more confident in trotting out the kicker to earn them three points.  Austin Parker has currently edged out William Holmquist (RS Senior, transfer) but both could see action and will at some point this season.
Cutbits
During yesterdays press conference, Cutcliffe said the team is taking last years record personal.  He also seemed confident that this years team is one of his most talented group of players.  According to the long time Blue Devil coach, there is lots of competition in practices and that some spots would be further earned in game action.  So, expect the depth chart to shake up a bit as Duke faces a brutal September schedule.
Additional notes
David Cutcliffe coached teams are 7-2 in home openers.  Duke is 5-0 all time versus NCCU.  Duke won a season ago 49-6.  Duke hosts Northwestern the following week.  Bring three items on a list at Go.Duke.com and you can get into the game for five dollars.
Duke vs NCCU
The Eagles have built a good program down the road in Durham and the game has been beneficial to both them and the local community. The Eagles have some talent and are coming off a close bowl game loss.
Duke is the deeper team here and one who could contend in the ACC.  The Blue Devils will likely try to establish the run game while taking some shots down the field.  But don't expect Duke to show but part of their playbook in that they have Northwestern, Baylor, North Carolina and Miami to finish out September.
Duke wins this one.  Blue Devils 51 NCCU 9