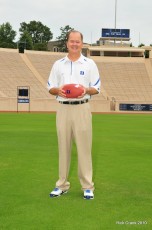 DURHAM - Had somebody told you Duke would lose to Virginia Tech by four points, you would have probably taken it going into the game.  The Blue Devils came up short once again, dropping a 14-10 heart-breaker to the ranked Hokies on Saturday but they are showing signs of progress just not in the win column.
Duke held Virginia Tech scoreless in the second half and how many teams have done that this season?  The Duke defense would bend a little bit but not break and they were oh-so close to a breakthrough win.  Seniors Matt Daniels and Charlie Hatcher played huge roles and led the young defense.  In fact, you could hear Matt Daniels laying the wood on his hits from inside the press box at Wallace Wade Stadium.
While the season is not over, I took time to ponder the fact that there were the only two players that Duke will lose on that side of the ball that started .  The Blue Devil still have four more games for young players to learn this season and I personally think they are going to beat somebody they're not supposed to for at some point Duke will get the right bounce of a loose ball or not have an interception from a freakishly tipped pass.
The bottom line is the defense is young and does have talent and while replacing the two solid seniors will be a tall task, the Blue Devils will welcome another group  of redshirt players along with a new class.
Take a look at the offensive side of the ball and you'll see a similar picture.  Duke will lose Donovan Varner, Cooper Helfet and a couple of lineman but they have a lot of replacements ready to step up.  While Duke has not had success in the win column, a few bounces or made field goals could have them 6-2 instead of 3-5.  We are talking 3 points more per average in the three losses here.
Again, the season is certainly not over and the staff will take a look at some things this week, but if they prepare as they did for the Hokies, they will get better and we can only hope a win or two comes from that.  The seniors still have a chance to be a part of a springboard for Duke to take it to another level.
It is a time to support the efforts and not jump ship.  A fan beside me after the game said Duke just found ways to lose games and I asked him his age which was 19 years old.  I said you can more than double that for me in that I have seen the Blue Devils lose in ways that you would think a black cloud constantly hovers over the program.
Face it, losses are frustrating and many of us see progress only in the win column, but the potential is now there, facilities are improving and kids want to play for Duke and the current staff.  I won't insult you with, "Rome wasn't built in a day," comments but I can say that progress under Cutcliffe has been made, just not at the pace some want.
The next step for the program is to push their way through to a win and believe that can happen.  Duke has nothing to lose so they can go out and be aggressive and that's what I hope to see the remainder of the season.  Having dealt with the kids in a media mode I can tell you that their character is unquestioned and that they do want to win but they are young and learning how to win.  At this point the players need to believe in themselves and go out there with no doubt in their minds that they should win.  Maybe, just maybe, Duke will start to get the right bounce of the ball and that seemingly dark cloud will dissipate.
As a long time follower of the program, I understand frustration but we need to step back and realize you cannot turn around a football program like you can in  basketball.  There are improvements folks but it may take another season to see it in a clear manner.  That said, support the team when they play Georgia Tech in their final home game this season and if big plays are made by the youth, recognize you will be seeing them again just more seasoned.