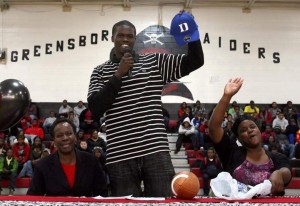 While most Blue Devil fans have been lost in the euphoria of Wednesday's dramatic victory over the Tar Heels, we here at BDN have been working tirelessly behind the scenes to continue to bring the best Duke Football coverage around. Yes, Duke Football coverage. In the middle of basketball season. In fact, Patrick Cacchio will be penning a weekly column for Blue Devil Nation Premium members on all things Duke Football (suggestion: Join Now). Here's his first installment.[private]
When I was in high school, we had "Fun Fridays." I don't remember anything particularly fun about them, and in hindsight, it was probably just a gimmick to try and make kids feel better about sitting in a dreary classroom on a Friday afternoon. Well, with that in mind, here at BDN, we're going to bring you Football Friday. Fridays have absolutely nothing to do with football, of course, but that's when I'll probably get around to posting this new column so we'll go with it for now. We'll do our best to keep you entertained with the latest in the world of Duke football on Friday afternoons. Since it's also a premium article, I'll try to make sure you get your money's worth of #SCOOP, too.
BDN Salutes
Congratulations to former Duke Head Coach Ted Roof on leading the Auburn Tigers' defense to a National Championship. Roof's defense, which was criticized throughout the season, managed to stall Oregon's juggernaut offense while Cam Newton took care of the rest. While Ted's career at Duke didn't work out as anyone hoped, it's great to see him having success on the sidelines.
Congratulations also to former Duke wide receiver and coach Scottie Montgomery, who helped the Steelers reach the Super Bowl in his first season coaching on an NFL sideline. Though the Steelers' receivers were led by veterans Hines Ward and Mike Wallace, don't overlook the contribution of Montgomery, who tutored rookies Antonio Brown and Emmanuel Sanders. Scottie will always be welcome back in Durham and continues to make the program proud.
Blue Devils get some good news on Signing Day
Duke fans got their first real taste of some Signing Day drama this year, as the Blue Devils completed their class with two late commitments. California WR Blair Holliday re-affirmed his commitment to Duke during a streaming press conference last Tuesday, but not before first flashing his hometown UCLA t-shirt. The real recruiting coup came early on Signing Day itself, as Alabama TE David Reeves signed with Duke in a ceremony at his high school. Reeves was pursued down to the wire by Memphis, South Florida, Mississippi State, and even in-state powerhouse and reigning National Champion Auburn, but chose Duke in the end. The Blue Devils weren't so fortunate when it came to the decision of Tennessee TE/OL Cam Clear, as they joined Alabama and Memphis as runners-up to Tennessee. It's a tribute to the work of the Duke coaching staff that the Blue Devils remained in this high profile recruitment all the way to the wire, but ultimately even recruiting extraordinaire Nick Saban was unable to pull Clear from his home state. Of course, since you're a BDN Member, you already knew where all 3 players were going since we predicted it on the premium message board. I'll definitely be using that magic 8-ball again.
Duke finishes with 20 commitments in the class of 2011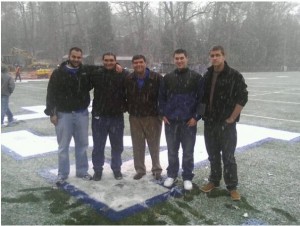 Two facts come to mind when looking at the Duke class of 2011. First, 16 of the 20 players had verbally committed to Duke before August 1st, with 19 of the 20 players verbally committing to Duke before October 1st (Reeves being the lone exception). The second fun fact about this class is that Duke hosted 21 prospects on official visits and 20 of them ultimately signed with Duke (Clear being the lone exception). Sure, there were defections and misses, but all in all, Duke held together a pretty good group of players, despite coming off a 3-win season; that's not easy to do.
Now that the letters are signed, sealed, and delivered (I know, they were actually faxed), everyone wants to know who will be the impact players from this class. The truth is that I don't know, the coaches don't know, and every player would tell you that he's going to be the guy. Of course, most will end up redshirting, and isn't that a rare luxury for Duke Football? Duke has actually built some depth, especially along the offensive and defensive lines (albeit mostly young, unproven, and inexperienced depth). There will of course be a few players who will earn playing time and make an immediate impact, much like Kelby Brown, Brandon Connette, and Josh Snead did a year ago. I've been fortunate to get to know most of these prospects pretty well over the past year, so here's my take on the Duke class of 2011:
Three athletes stand out in this class: Jamison Crowder, David Reeves, and Blair Holliday. These guys all possess a natural playmaking ability that had been lacking in Wallace Wade Stadium prior to Cutcliffe's arrival. With hard work and good health, I expect great careers from all three.
I really like the group of offensive linemen. They've already developed a strong bond amongst themselves, and I think every one of them will develop into a very good college lineman. They're great kids, hard workers, and have a passion for football that has also been missing at Duke.
There's a confidence among the new DBs that should infuse life into the much-maligned Duke secondary. Jared Boyd played for a powerhouse program in Georgia and could be ready to compete for playing time. Chris Tavarez, Duke's own Disney teen idol, is a sleeper who can make plays. And if you like underdogs, Tim Burton may be undersized, but he's probably the fastest guy on the team. And if you don't think any of these guys are good, just ask them.
We all learned our lesson last year and know better than to sleep on Kyler Brown, but I wouldn't sleep on the other linebackers in this class, either. Jon Woodruff has a great frame and is already on campus, while Britton Grier and David Helton both have a reputation as a hard-hitter. The fact that the Duke staff didn't go out after any high-profile guys along the defensive line leads me to believe they're pretty satisfied with the group of redshirts from a year ago. Sam Marshall, Lucas Fisher, and Mario Sanders will develop into solid players up front, but are probably long-shots to see a lot of snaps as freshmen.
Will Monday is a nice addition as well, and he will help take Duke's special teams play to another level. He'll challenge Alex King for the starting spot at punter.
It's not a class that will blow anybody away according to the various ranking services, and we all know that Coach Cutcliffe doesn't put a lot of stock in analyst grades and stars. For the most part, this is a class with D-1 talent and a strong work ethic, who Duke hopes will develop into solid ACC football players over four or five years. For those who put more stock into rankings than Coach Cutcliffe, it is worth pointing out that ESPN has Duke's class collectively ranked higher than Florida, Oklahoma and Miami. I think I'll wait until we see the players on the field before I agree with that assessment.
2012 updates next week
So I probably didn't tell you anything you didn't already know this week, but I have to leave something to make you come back next week. We'll look at Duke's early offers in the class of 2012 and take a look at the biggest areas of need for that class. We've also got to find time to talk about Duke's 2011 schedule, why the ACC's football struggles have carried over to basketball, ways to improve the compliance department at UNC, and what bowl we want to go to this year. So much to say before September and your attention span only lasts a few hundred words at a time (your poor spouse). Anyway, if you have compliments, please send them to me, and complaints can be sent directly to Mark.
Until next week, GTHC. We Are Duke. [/private]