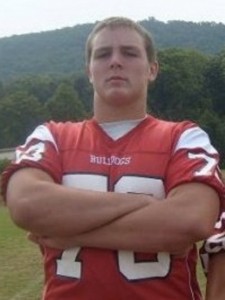 Grant Jones is a 6'5" 301 pound junior offensive tackle from Lynchburg, Virginia, who has drawn interest from nearly every school in the ACC. Grant has been selected in the preseason Top 100 by Offense-Defense Sports, and was named first team all-conference, area, and state as a junior at Liberty Christian Academy. In addition to his football prowess, Grant also finished his junior year as the #7 overall wrestler in the country and enters his senior year third in the preseason rankings, though he says he is unlikely to pursue wrestling at the collegiate level.
Grant prides himself on his ability to finish blocks and leave his opponents on the ground; he also considers himself to be very strong in pass protection. His goal is to be thought of as a "competitor on every down." He is always working to improve his technique, keeping his pad level low, and has really emphasized working on his explosiveness heading into his senior year. This fall, he hopes to win a state championship after losing in the title game last year. Personally, he would like to repeat his accolades as first team all-conference, area, and state.
When considering his college choices, Grant is looking for a school where he will get a great education over five years. He's looking for a coaching staff with experience both on the field and on the sidelines, which he hopes will help to make him successful in life and in football. Mostly, though, Grant values "honesty and trustworthiness – I want a coach who will tell you where you stand and treat you fairly." Growing up in Pennsylvania, Grant followed Penn State and Notre Dame football, but says that his childhood allegiances will have little to do with his own college career. "It's a lot different looking at schools now," he said.
Heading into the spring evaluation period, Grant expects to be evaluated by many schools in addition to the four who have already offered him a scholarship, those being Duke, East Carolina, Stanford, and Liberty. He plans to attend spring Nike camps at Penn State and Virginia Tech during the evaluation period, and hopes to showcase his skills for schools that have recently been in contact, which include Virginia, Virginia Tech, Clemson, NC State, North Carolina, Alabama, Ole Miss, Penn State, UCLA, and USC.
To date, Grant has visited Virginia, Maryland, NC State, and Duke. Grant said that he thought NC State has "great facilities and great coaching," while he saw Duke as a program whose "stock is on the rise" and that "Coach Cutcliffe is a winner and he is going to get it done there." Grant had high praise for Maryland's Coach Friedgen and Virginia's Coach London, describing them both as "honest and trustworthy" coaches; he added that both schools had "absolutely beautiful" campuses. With Virginia being only an hour from home, he said he was very familiar with the school and has been in touch with Coach London since his days at Richmond.
Grant hopes to make his college choice before his senior year.