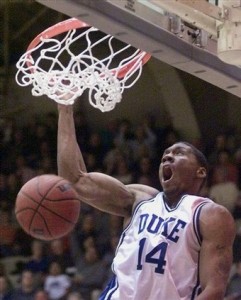 I had the opportunity to interview Nate James for the third year in a row to talk about his  basketball camp and, this year, about his first season as a coach.  James spoke of the challenges that lie ahead, his role on the team, a soon-to-be child, and more.  Nate strolled in still in tip-top shape, making it obvious that he still pumps iron.  James has always been known for his toughness and I took the opportunity to slip in a question designed to get his "Dogg" juices flowing.
If you are willing to sponsor a kid for his camp, you can do so through our site by contacting me at Admin@bluedevilnation.net or contact James directly in the link Nate James/Chris Carrawell Basketball Camp.

BDN greatly appreciates those who helped send the kids I work with in Roxboro, North Carolina, to last year's camp.  Be sure to mention that BDN sent you if you decide to send your kids there.  Enjoy the interview -
This is Mark Watson of Blue Devil Nation and I am sitting here with Duke Assistant Men's Basketball Coach, Nate James.  Nate, you have a camp coming up and we worked with you last year to send some kids, thanks to donations from readers of the Blue Devil Nation.  I am thankful that people stepped up to send Corey and Ridge (pictured in article) and those guys had  a good time.  Why don't you tell us about the James-Carrawell Camp.
It's a camp we've been doing at the Durham Academy the past four years and it's been a great thing for us and the community.  It's a way for us to give back to the community and the City of Durham and surrounding areas.  This is our home away from home.  Of course, I am from Maryland and Carrawell is from St. Louis, but I've been in the Raleigh, Durham and Chapel Hill area for so long that I wanted to do this camp to give back to the kids.
If somebody wanted to send in some money for a scholarship, how would they do that?  I will gladly take donations through my site as we did last year, but if they didn't want to do that and instead go directly to you, how would they do that?
We have a website  - Nate James-Chris Carawell Basketball Camp - and you will find more information and the address.  Any amount is welcome, for every little bit helps the kids.  You can also contact us by phone and whatever you want to do, you can.  The last few years we've had a lot of people sponsoring some kids and it's been a big-time help and we are grateful for the support.  It's $200.00 per camper and if a kid can't afford the amount that goes to work with them,  be it a full or partial scholarship.  It's not just if a parent can;t afford it, it goes deeper than that.  It has to be a good kid, they have to be doing well in school, they have to be deserving and we have a program where they have to submit essays to really earn that scholarship.  It's been a good thing and we have had a lot of feedback and guarantee that your child will have a good time.
Let's talk about your first season as an assistant coach with Duke...
You really learn a lot and you are learning under the best coach in the business and tutored by the best associate head coaches in the business.  When I first came in I didn't know what my role would be, but Coach K tells us to follow our instincts and do what you do best and I know the game so I was able to lock in with a couple of the guys and teach them the game and what I know.  It was a terrific season for us.  I don't want to say we overachieved, but we won a lot of ball games and did a lot of things people didn't think we could do.
Duke obviously lost two very athletic and talented players in Elliot Williams and new Charlotte Bobcat, Gerald Henderson.  What are your thoughts on the team this upcoming season?  I mean, I know you guys never despair and Coach K always works on what he has and builds upon that.  Can you give me your thoughts on the coming season?
Obviously, when you lose two of your best athletes and your best player in Gerald Henderson going in the lottery at 12th, which is a good thing because he stays close to home and we can check some of his games out, but whenever you lose two good players it's tough.  Losing Elliot Williams due to some family issues where he wanted to go back home is tough.  We had hoped he would come in and fill some of that void Gerald left, but I spoke to the team and told them that it reminded me of the season everybody left for the NBA and people didn't think we were going to be very good.  Shane, Chris Carawell and myself took advantage of that possibility.  I took that as a chance to let the world know who I was, going from a 4 ppg scorer to 12 or 13 that year.  A lot for the players for this year's team ... I told them this is an opportunity to come in and let the world know who you are.  If you didn't get as much playing time as you wanted last year or your scoring average wasn't what you wanted it to be, you can now step up.  I think a lot of our players can step up and we look at this as a challenge just like that year we were predicted not to do so well and we ended  up winning the ACC regular season and tournament championship.
A lot of people forget that Nate James was the three point shooting contest winner at the McDonald's All American game.  What happened to that shot? [in jest]

What happened to my shot? [competitive nature came out]
Yeah, did Coach K say, "I'm not going to let Nate take the three at Duke?"
[Nate was like, "what are you talking about," with forehead crinkled and a serious look on his face]  I took a lot of threes.  That was my thing, you watch the film, you are going to see me shoot a lot of threes in that corner, we ran that patented LA offense.  With Jason coming off that top screen with Shane Battier and he'd either penetrate or kick it up top and if the draw wasn't there he would hit me in the corner, so it was definitely there.
Okay, I'm just kidding with you and wanted to see the juices flow. [smiling]

[smiling] Yeah, yeah.  Hey, thinking back on it I should have shot a lot more.  Anyway, I try to pass that on to the other guys.  We are going to need Kyle and Jon to shoot a lot of threes and our big guys need  to step up.  I think it's going to be a great season and a great opportunity for all those guys and we'll win a lot of ball games.
I know you can't talk about recruiting, but the future looks bright and you've been a part of that.  You will be out on the trail this week, right?
Yes, I will be leaving July 6th to hit the recruiting trail.  I will hit the LeBron James Camp up where I will get a chance to see who we are recruiting, but I won't be on the road too long this year.  My wife and I are expecting  a child, so I definitely cannot miss that  because that would be the end of Nate James. [smiling]  But I'm excited about everything that is going on this summer ... my camp, the recruiting trail, the birth of my first child.  It's been a great June and it's carrying over into July.
Congratulations from the Blue Devil Nation on the soon to be birth.  Boy or a girl?
A boy. [obvious glee of accomplishment on his face]
Okay, Nate junior!  So, will he be wearing the royal blue one day?
Well, I told my wife I won't push the game on him but if that is something he wants to pursue, I am going to give him all the tools he needs to be successful - only if he wants to play.  But if he does, I know he's going to be a bad boy, I already know. [wide grin].  His Dad wasn't a slouch and he's got the James name so he will not be a slouch either.  It's an exciting thing as anybody with kids knows out there.  I'm already a proud father-to-be and looking forward to seeing him in a couple of weeks.
Now [pause], how long before he's call the little dogg? [Nate's nickname in college was Nate "Dogg"]

[laughs] Well, we are still trying to figure out what we'll call him.  You know, I'm a junior so my family always called me little Nate and my wife is not a big fan of the third.  So, any suggestions out there, send them my way.
The hard nosed Nate James!  Thanks for your time and best of luck in all that you do.
Thanks.
BDN will have an article up later this week on two of the campers BDN supporters sent to the camp last season.