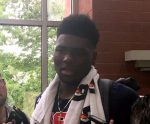 The Duke staff continues their quest to build next seasons recruiting class during today's Nike Peach Jam.
The staff visited UA (Under Armor) before coming to the Peach Jam in North Augusta, S.C.   While there, they took in top target Bryan Antoine.
As I stated in past updates there is good reason to think that Duke can close on him with only the timeline being in question.  He is great friends and talking to players who are considering making the Durham campus their home.  He is also friends with Joey Baker who continues to recruit while at Duke.
Duke and Coach K also took in the play of PG Nico Manion which they will recruit heavily moving forward.  His teammate Josh Green has their attention as well.
Coach Mike Krzyzewski  and Duke Assistants Nate James, Chris Carrawell and Jon Scheyer are all making the rounds at the Peach Jam.  They have been zeroing in on their main targets which includes Vernon Carey Jr.
Duke also took in the play of Josiah James which we spoke of in the last update.  Duke continues to recruit Cole Anthony which plays a role in how things will play out (see update before camps on message board.)
Coach K himself was front and center for Anthony and there is no let up in his recruitment despite some comments some are blowing up.  Duke is still firmly on his list and that has been made clear.
Duke has not exactly moved on from RJ Hampton but he has not had a lot of attention yet. Scheyer took in Jaden McDaniels fame.
Duke is also looking at 2020 and other players which is standard for this late in the season as they make future lists.
The staff will be out shortly and were able to get some good rest in due to scheduling where their prospects play at noon and beyond.
Several former Duke players have stopped by to talk to Coach K including Rodney Hood.