Under Head Coach David Cutcliffe, the Blue Devils have had a lot of success on the recruiting front during summer camp season. That trend continued this year, as Duke received two verbal commitments shortly after their first weekend of camps.
Duke hosted Johnell Barnes, a 6'0" 160 pound wide receiver from Dunbar HS in Fort Myers, Florida, during its camp. The speedy receiver had seen his recruitment take off this spring after being named the top WR at multiple camps. In his first year at receiver, Barnes caught 35 passes for over 700 yards and 7 touchdowns. A star both on the field and in the classroom, he also boasts a 3.7 GPA. He chose the Blue Devils on Monday over 11 other schools which had offered, including Connecticut, Florida International, Hawaii and Northwestern.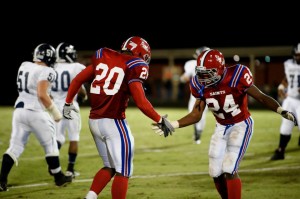 Zavier Carmichael is a 5'11" 200 pound class of 2014 linebacker from St. Paul's School in Mobile, Alabama. A teammate of star 2013 RB Jordan Huff and 2014 LB Tre Williams, he helped lead St. Paul's to an 11-2 record in his sophomore season. He is the son of Sidney Carmichael, a former lineman at Ole Miss. Carmichael is a top student-athlete, and ultimately chose Duke over Vanderbilt.
Check back with BDN for the latest on the newest Blue Devils.