At 6'6," Tom Konchalski would stand out in any crowd, but, even among the pituitary cases dotting the hardwood courts, he is revered and respected for his candor, integrity, kindness, and eye for talent. His vise-like handshake and words of encouragement are a rite of passage for nearly every major U.S.-born high school basketball player. Currently, more than 200 colleges subscribe to the High School Basketball Insider Report, where he has been the editor and publisher for more than thirty-five years. He is one of the select McDonald's All-American voters. At the birthplace of basketball, Mr. Konchalski sat courtside with Blue Devil Nation in Springfield College's gymnasium for the HoopHall Classic and discussed several Duke commitments and recruits.
[Andrew Slater asks questions in bold)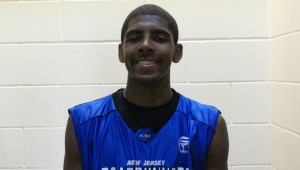 Kyrie Irving?
I think he will be the best guard to ever play for Mike Krzyzewski at Duke. He will certainly be the best guard since Jason Williams. Kyrie has tremendous skill combined with great athletic ability. He has unforced athletic ability, using it only when necessary. Some guys want to show you how quick they are, how high they jump, and how explosive they are on every single possession. He doesn't play for effect, but rather he plays for the result. On every possession, you might discover one more weapon in his arsenal. He just plays the game the right way. He plays very much within himself. He lets the defense tell him what he is going to do and he has a counter for every defense. He's also a very, very nice young man. He's quiet and soft-spoken. I really think that he is going to be a standout almost from the get go…right from the get go. With Scheyer leaving and Nolan Smith being able to play off of the ball, I expect that he'll be able to step in and be a scoring point guard for them right away. I would be surprised if he wouldn't.
What about Seth Curry as a sixth man?
I think ... Tom goes on to talk of  Josh Hairston Tyler Thornton, Austin Rivers, Quincy Miller J.P. Tokoto, Trey Zeigler, Amiele Jefferson, Marshall Plumlee, Terrence Ross, Quin Cook and Michael Gilchrist in his  conversation with Andrew Slater.  Join BDN Premium for full site access where you'll be informed of the latest happenings and discuss those on our members only message board. [private] he'll be more of a scorer than anything else. Anyone who shoots the ball as well as the Currys, I don't think you want them to handle any of the other responsibilities that would take them away from what their true weapon is.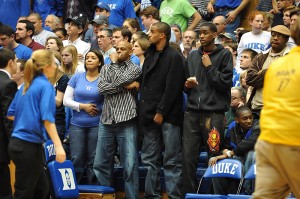 Josh Hairston?
Well, I want to say that I haven't seen him this high school season, but I've seen him quite a bit leading up to his switch to Montrose. I think he will improve considerably under the tutelage of Stu Vetter. The last time I saw him play was for the Assault and I thought he needed to become more aggressive offensively and assertive. He's a very nice kid and has a really good skill level for a 6'8" kid. He reminds me physically of Edmund Saunders, who went to UConn. This isn't my final evaluation and I will be certain to go down there and observe him at least once during the season. I expect that he will be much improved for having played under Stu Vetter.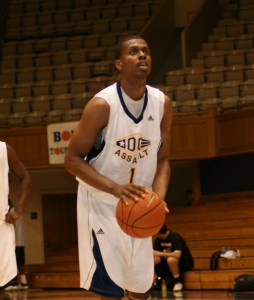 Tyler Thornton?
He can be a piece of the puzzle. Offensively, he's not at the level of the previously mentioned guards. He plays hard and can defend. I think that's where his value to the program will be. He's going to be a utility guard and give them some depth at the position. He'll be a four-year player. He can certainly be a contributor, if not right away, then certainly by his junior year. I think he'll be a contributor. Even if they didn't get Kyrie Irving, I don't think you could ever expect him to come in right away and start at a place like Duke.
Out of curiosity, would you feel comfortable having him start right away as a point guard at the mid-major level?
I think he could have and I wouldn't rule out the possibility of him starting later in his college career. That said, I don't think he's ready to withstand the quickness and pressure that he would be asked to handle right away at Duke and at the ACC level and be a thirty minute player.
Trey Zeigler?
I've only seen him a couple of times. I don't know him well enough to comment. Nate James was here yesterday.
Yeah, he and Coach Krzyzewski flew out to see him play recently.  Terrence Ross?
You mean the one that committed to Maryland. When I saw him a couple of times last year, he wasn't as aggressive as when I had seen him before at other events. The last time I saw him was at the Boost Mobile Elite 24 at the end of August. He didn't play particularly well. Stu Vetter tells me that he's really improved since that time. He has good size and Stu Vetter tells me that he's shooting the ball so much better. He's got to get a lot stronger physically. Even though the ACC is more of a finesse league, he's got to get a lot stronger. I think he's a pretty good athlete, but not a great one. His feet are fairly fluid. I really liked what I saw of him at the Peach Jam, but then he, well, he's playing for one of the best coaches and instructors in the country. He should really improve this year and be much more prepared to be able to play at the ACC level, going in as a freshman.
They're apparently not sure that they can get him in academically.
If he's good enough, they can find a way. Look at Sean Dockery. Look at William Avery.
Sure. Sure. The next one is Austin Rivers. You had a great quote about him on Zagoria's web site in August.
What did I say?
He asked you if you could select one player to choose from the Boost Mobile game to start a college program with, which one would you choose and why?
Oh, well, first of all, he has great size. In high school, out of necessity, he's got to play scoring guard for Winter Park, but I think, at the next level, he's a point guard, at least eventually. Now, if he goes to Duke and Kyrie is still there when he gets there, he's not going to take the ball out of Kyrie's hands. Here's a guy, who even though he has flaws in his stroke, you see he has a hitch in his stroke plus his elbow is way out. He never gets his elbow under the ball, but I mean he can make it. Well, first of all, he has great penetration ability and he is such a good finisher going to the basket. He has very good balance and body control. He can change his direction right in the air. He finishes plays right beneath the basket. He also shoots what I call a half-volley. It is a Steve Nash shot, where when he drives to the basket and, by the way, he was at the Steve Nash's Point Guard Skills Camp at least one year, he shoots off the wrong foot in order to get his shot off more quickly against the defense. In a half volley, for example, you'll shoot with your right hand and go off your left foot. Austin Rivers has that, but he's also a guy who will shoot better from behind the three point line in the last two minutes of a game than he will in the first thirty. I think he just has tremendous court awareness, great presence, and I think he's going to be an outstanding player. If they can get him, he's going to be very unpopular in the state of Florida, but…
Well, I asked him about that and, on the record, he said there was a lot of pressure to commit at the time because they were just coming off back-to-back titles at the end of his freshmen year.
What did he tell you about schools?
He said he was open.
Did he include UCLA, UConn, and UNC as well?
Well, I mean his father said yesterday that he's really only looking at two schools, Florida and Duke.
Really?
Yeah, late in the summer, he mentioned those other schools, but not..
Well, trust me, the father wanted him to reopen his commitment. I really think Austin will be a great guard.
Quincy Miller?
Big kid, very long, very skilled, a nice kid, who's got to get a lot stronger physically even though he's probably going to be a three man, but, even at that position, he's got to get a lot stronger.
You think he's more likely to develop into a three than a four.
Here's the thing, right now he's not going to guard a three, but, offensively, he has perimeter skills. I think it'll probably be easier for him to adjust and guard away from the basket than it will be for him to bulk up and be able to guard a four. I don't know that he has the frame where he can really get thick and become more of a power player. I frankly don't think he'll be able to do that as easily.
Marshall Plumlee?
He's big. I've only seen him play with Indiana Elite. His father played for a friend of mine down at Tennessee Tech. They're very nice people.
Quinn Cook?
I love him, but I don't know how he could coexist with Kyrie Irving, if he's still there.
He is very close with Nolan Smith, for what it's worth.
Yes, he played really well and had great court presence, when I saw him recently. Kevin (Armstrong) and I went down and watched him play and he just took over in the second half. He had seventeen second half points and not only did he score, but just made big plays and really took over the game completely. He's DeMatha's next really great player.
What about his defense? Do you think he can..
No, he's not a great athlete. He's smaller and he's got to get stronger as well, but most kids who are sixteen year old juniors don't have really have a major college body either. I love Quinn Cook.
Off the court, I find him great to deal with and a really good teammate on the AAU level. He's a crafty little point guard. Here's a relatively local kid, Desmond Hubert. He came to visit them already. He's a very thin young man.
Yes, he's a long kid, he can block shots, he runs well, he can get off the floor easily for a big kid, but he's a long way away physically. His offense is really just in its initial stage, in its infancy. He's got to be a five because he doesn't have any skills. The best things he does are block shots and grab defensive rebounds.
He is quick though for his..
Yes, he is quick and very mobile for 6'9." He runs the court well.
Another one we watched together last month in the Bronx, Amile Jefferson?
I think he's potentially very good. He's skilled. He's a young boy physically. He doesn't have a lot of strength. He doesn't have a tremendous amount of athletic ability, but he has good skills and certainly be a three man. I don't know if he's quite what people are making him out to be right now. I think he's going to be a good player, but, whether he 's going to be one of the best in the country in his class, I'm not prepared to go there right now. He's on a team with several good seniors and so he's not asked to contribute a lot, in terms of scoring. He does have the potential to be a very good player, however. He's another guy who's such a young colt that you don't know quite when his body will catch up to him.
J.P. Tokoto?
I've only seen him once. I know they've offered him. He's supposed to be a terrific player. Dave Cooks..Do you know Dave Cooks?
No.
Well, he's the coach of Marquette Prep out in Milwaukee. He always goes down the Duke Camp every year. It's a road trip for him. He's the guy who's pushing him. I saw him at Spiece briefly. He looked to be a true 6'4" wing that was playing up one level.
The last player I wanted to ask you about is Mike Gilchrist.
He's a terrific player, but, to really be a franchise player, he's really got be able to score more from the outside and be able to score more consistently against defenses that are geared up to stop him. He's not really a perfect scorer. He's got great hands and he has great feet. He has really long arms and a great nose for the ball, which really help make him a great offensive rebounder. Although he's not particularly strong, he's a great finisher around the baseline of the basket. To really be a star, however, he's really got to work on his perimeter shot.
Do you think he'll work on it?  Do you think he's committed to the game enough to maximize his potential? You know him a lot better than I do.
On the last two times I went to see him, they were snowed out and the next time he never got out of his warm-up suit clapping on his teammates. You mentioned before this that he played down in Princeton and so I'll see him tomorrow. I think he's a nice enough kid, but (pauses) how far he goes, to a large extent, will be determined by how many voices he eliminates from his ears.
You're absolutely right.
Right now, he has too many people in his ear.
Yeah, I had a situation last spring with his AAU guy Rob Brown, where, let's say, he was running interference.
That's not the person that he's got to be afraid of.
I can think of another guy.(laughs)
Yeah, you know who it is. The thing is everyone wants to be his friend. Everyone wants to be his advisor and everyone wants to be able to say they know Michael Gilchrist.
You've been doing this for nearly forty years, who do you compare him to? Is there another player that immediately jumps to mind?
Someone like Billy Owens, but he can't score from the perimeter like Billy Owens. Billy Owens was one of the best forwards that I've ever seen. It didn't, well, he should've been a much better player than he turned out to be. He got heavy and then he had a series of foot injuries and leg injuries. He should've been one of the great forwards. He was one of the handful of best high school players I've ever seen.
Thank you very much for doing this.
No problem, really, no problem.[/private]