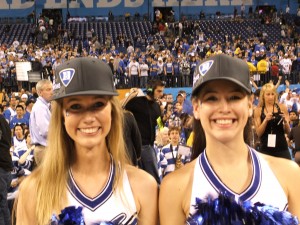 Now that it's known which college players will officially enter the NBA Draft the picture for the 2011 college basketball season is coming into focus.  As expected Gordan Hayward who missed a desperation shot in the national final as the buzzer sounded has elected to stay in.  Many have said the Boston Celtics assured him he would not fall past them, so that made his decision easier.  While college basketball loses here, Hayward has elected to go out on top.  This makes sense in that Butler would be hard pressed to equal their story book run in 2010.  A player like Hayward is cashing in on being hot but had the Celtics not offered the supposed guarantee, he would have been better off returning.  The Duke-Butler game will suffer as will the Bulldogs with his decision.  His return would land Butler in the pre season top five but his loss means they'll likely struggle to remain in the top 25.  Of course, who wants to sell them short?
Speaking of departures, UNC loses not only Ed Davis but David and Travis Wear to transfer.  While some didn't see the Wear twins leaving, many who are close to the program had an idea.  This means UNC is really thin up front but don't fret for the Tar Heels for they will be a team with a lot of potential scorers.  Despite heavy rumors, UNC managed to keep it's other freshman and that will allow them a roster full of perimeter guys.  If you think teams cannot regroup after losses, look no further than Duke who had no recourse when Elliot Williams transffered to Memphis.  Duke came together and everyone worried about their guard depth and in the end Duke gelled and nobody saw them coming.
Enough with departures, let's talk about the returns starting with Malcolm Delaney to Virginia Tech.  The Hokie Nation is smiling from ear to ear for there the 2011 Techsters should garner an NCAA berth.  Look for Delaney and Duke's Kyle Singler to run neck and neck for pre season ACC Player of the Year per local media.  Both are shoe ins for All ACC.
Delaney will put the Hokies in the upper division of the ACC but they'll have plenty of competition from their company.  Duke will not only be the pre season choice for the regular season title  in the ACC but the country as well.  As mentioned earlier, expect UNC to rebound from a lack luster season by their standards.  UNC will add a ton of scoring with the addition of Harrison Barnes and Reggie Bullock and they'll likely rotate Henson and Zeller down low while playing a quicker team than a season ago.  The addition of C.J. Leslie in Raleigh will propel the Pack to the top of the conference.  Sydney Lowe has a terrific, yet young starting line up and the excitement will rekindle rivalries in the Triangle area.  The other two teams we see in the upper division are Florida State and Miami, but there is a lot of time between now and tip off, so we'll hold off on our official predictions.
Two Big Ten teams benefited by returns as well in Purdue and Michigan State.  The Spartans are loaded with the return of Kalin Lucas and they'll be in the top ten all season long.  In fact, rumor has it that Duke will face Michigan State in the ACC-Big Ten Challenge.  Purdue got some great news when Ja Juan Johnson and E'Twaun Moore pulled their names out of the draft to join an rehabbing Robbie Hummel to form one of the nations top starting lineups.
I started working on an ACC Football preview for a group this weekend and the one thing which stands out is how many of the top teams return most of their starters.  The Coastal division probably has the top four teams in the conference all in one division and any of them could be in the title game in Charlotte.  Duke will be rebuilding and a leap beyond last seasons fifth place division finish will prove tough.  A huge early season barometer will be when Duke travels to Wake Forest in the second game of the season.  The Blue Devils have an interesting schedule where there appears to be some winnable games, but the conference structured it in a way when Duke could have used an off week later in the season.  If there are must wins on the schedule I'd say that Elon and Army fall into that category.  The bottom line is that Duke will be painfully young but quick and with a massive rebuilding job on defense they will lean on their offense while breaking in a new quarterback.
We appreciate your patience of late in that most of our staff has a lot going on from moves to family health issues.  Look for a lot of recruiting coverage in the coming days on both the hardwood and gridiron as we return to normal.  We hope to debut our first prospect video this week as well.  BDN has a lot of changes coming in the near future in that we are always trying to make the site better.