Here are some general comments and news on prospects that participated at this past Saturday's  Slamfest VIII in Richmond, Virginia. 
Marshawn Powell (6-7) Powell is an active workman like player who is sure to make Arkansas fans happy.  Powell has a really nice inside/outside game and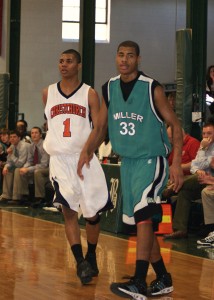 made use of the baseline this past Saturday.  Powell showed off his three point touch going 2 for 4 and ended the game with 18 points, 8 rebounds.
Hippolyle Tsafack (6-8) - It didn't take long for those in attendance to take notice of the little known young man from Cameroon.  He showed off a chisled body and worked the boards with authority grabbing 11 rebounds to go with 18 points on 9 of 11 shooting.  BDN Premium has more on this fairly unknown prospect where we interviewed the biggest surprise at Slamfest VIII.
Mychael Parker (6-5)The Miller School packed quite a one-two-three punch in Powell, Tsafack and Parker.  Parker had 16 points and 8 rebounds in his schools 68-49 win over Christ Church.  He is an active tweener which drew Gininije for much of the game.  Parker is being heavily recruited by Virginia and Virginia Tech.
Michael Gbinijie (6-6)I thought he took a lot of shots where his body and or feet weren't squared up.  He didn't finish strong in my opinion, but he was going up against the aforementioned three amigos from Miller School.  He likes to float outside a lot, yet he has more size than anyone else on his roster.  He shot 5 of 14 from the field for 14 points to go with 4 rebounds.
Steven Pledger- The future Oklahoma guard scored 28 points to go with 7 rebounds and 4 steals for his guard heavy Atlantic Shores team.  Pledger is a strong guard that forces the issue and drains his free throws when he is fouled.  He had a breakout season for Boo Williams during last years AAU play.
Josh Hairston - One of the most consistent kids I've seen.  He continues to get better and always hovers around 24 points and double figure boards.  BDNP will have an interview with the Duke commitment coming this week from the event.
Andre Dawkins - The future Dukie showed off his athleticism more-so than I have ever seen him do.  While he struggled a bit by his standards on his way to 15 points, he found other ways to help his team, with 4 blocked shots.  Did we mention his team high 9 rebounds?  BDN Premium will have an interview up shortly and Dre is always entertaining.  We will also discuss his game more on the members message board.
Brandon Britt (6-0) This guard unexpectedly stole the show, winning the player of the game for Atlantic Shores in their 85-62 blowout over Deep Run.  Britt was unconcious hitting 12 of 19 from the field which included and amazing 10 of 14 three pointers.  He's a kid people will now keep an eye on.
James McAdoo (6-8) BDN Premium will have an interview with this talented youngster up this week.  He's long, quick with the ball or without it and has enormous potential.  McAdoo dropped in 21 points to go with 10 boards, but his Norfolk Christian team lost a 53-29 decision to Henrico.  This guy is the real deal.
Travis McKie- He helped his team stay close with powerful DeMatha and showed off his athleticism.  The problem is that he waited to showcase that talent until the second half.
There were several other good players, one or two which BDNP will cover.  Coaches from Clemson, Virginia and Duke were there to watch the games.  Our premium section will have in depth analysis and interviews with the kids who may interest Duke, including Hairston and Dawkins.