S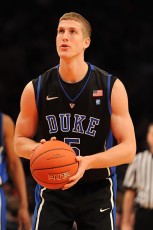 T. LOUIS (USBWA) - The U.S. Basketball Writers Association has selected Duke forward Mason Plumlee as its Oscar Robertson National Player of the Week for games ending the week of Sunday, Jan. 29. The USBWA's weekly honor is presented by Blue Ribbon College Basketball Yearbook and will be handed out each Tuesday through Feb. 21 this season.
Plumlee, a 6-10 junior from Warsaw, Ind., averaged 19.0 points, 14.5 rebounds and 3.0 assists per game in leading the Blue Devils to wins over Maryland and St. John's. He opened the week with a 23-point, 12-rebound, four-assist performance in a 74-61 win at Maryland. He was 9-of-13 from the field and knocked down all five free throws in the contest.
In Saturday's 83-76 win over Big East foe St. John's, Plumlee recorded his ACC-leading ninth double-double of the season with 15 points and a career-best 17 rebounds. For the week, Plumlee shot 66.7 percent (14-of-21) from the field and 71.4 percent (10-fo-14) from the foul line.
This is the third season that the USBWA has selected a national player of the week. The weekly Oscar Robertson National Player of the Week is added to the Oscar Robertson Trophy watch list, which will be released at mid-season.
Since the 1958-59 season, the USBWA has named a National Player of the Year. In 1998, the award was named in honor of the University of Cincinnati Hall of Famer and two-time USBWA Player of the Year Oscar Robertson. It is the nation's oldest award and the only one named after a former player.