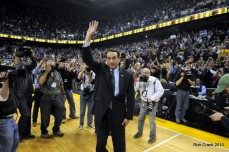 GREENSBORO - Face it, Greensboro Coliseum has been good to Duke over the years and you can make  a case for calling the place Cameron West.  There was no better setting for Duke Coach Mike Krzyzewski to pass North Carolina's Dean Smith to take hold of sole possession of 2nd place on the All Time Wins list.
Everywhere you looked there was royal blue and the fans in attendance really seemed to enjoy being a part of history.  On a night when Kyle Singler dropped 27 points and Nolan Smith added 26, the shadow of Kryzewski was just too big to even discuss the game, one where Duke won handily with a 108-62 win over UNC-Greensboro.
I am dating myself here, but I was there when Mike Krzyzewski was named the new Duke Basketball Coach,  I watched him as he grew a program.  I watched as he stuck by his man to man defense and motion offense until he had the proper players to run it.  I watched as some notable Duke fans wanted his head.  I was there when his team hit a low losing to Wagner in Cameron and I also witnessed Virginia and Ralph Sampson thumping his Devils to where they'd remember it and seek revenge and the programs revenge included many more teams than the Cavaliers as his ascent began.
Then again, I was there when he won each national championship and when his team got to their first NCAA Tournament.  Pictures hang in Cameron where I was there for his return too with my index finger held high.  And folks, I'm only scratching the surface for I have truly been there from the start, up close and personal from the very beginning.  In short, the good memories are plentiful, a bounty of riches that are too numerous to cover.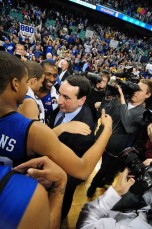 By now you're thinking that this is not about my fandom for we all have wonderful memories as Blue Devil faithful and there are some who have been just as  fortunate as me.  But while it is really about Krzyzewski and his incredible success at Duke University, it is about me as well.  And if you're a fan, it's about you too.
You see, in a sense we are all in this together, a large family, at times dysfunctional with silly message board disagreements, but together once the ball is tipped in a Duke Basketball game.  It's about us for without the appreciation and memories, nobody would be around to tell of the man's and I do mean the mans exploits.  The memories are ours as they are Coaches.
So, to heck with a game story this evening.  We appreciate the teams efforts, but 880 wins!  Buy you a bag of Peanut M & M's and toss that many into a bowl if you have one big enough.  Drop a case of toothpicks on the floor and pick up 880 of them.  Coach K's accomplishment is in one word amazing and I'm sure you are just as thrilled as I am.  All I can say, is thanks for the ride coach!  On second thought, check that, for the ride is not over and I for one am thankful for that.