The Blue Devil Nation was on hand for the 7th Annual Martin Luther King Scholastic invitational in Greensboro and we bring our members this synopsis of the happenings.  We'll have Q & A's with the shakers coming as well.  From Deuce Bello to Mason Plumlee, we bring you the latest -
(Blue Devil Nation Premium is a subscription service)
Why did Oak Hill win so easily? -Guard play, namely Mo-Mo Jones who drove it right down the throat of the Greenies defense at will.  Oklahoma bound Tiny Gallon made some timely blocks and held down the middle.  Daron Lamb ran as a front court player in what was basically a three guard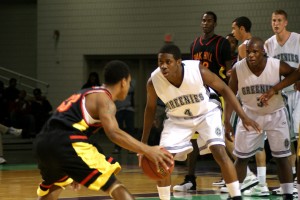 offense.  Oak Hill scored a ton of points where the Greenies didn't [private] get back on defense.  Then there was a lack of patience when the game was close for Christ School, that allowed spurts that ultimately became too much to come back from.  Greenies lack of a special point guard ws exposed and their guards neutralized. 
More Keith "Tiny" Gallon- While he wasn't that effective on the offensive end, his play was vital.  He turned to the Oklahoma assistant and nodded with a smile after taking the ball in for a dunk over two players.  Later in the game he said "I'll bet yalls money was on them," to the TV crew from Western North Carolina which was covering the game.  He did so laughing.  Too much moxy for Oak Hill.
Playing with a chip on their shoulder- Coming into the game, most thought Christ School was the team with a chip on their shoulder having lost a heart breaker last season against the same team.  But Oak Hill players cited several newspaper quotes which riled them up.  Mo-Mo pointed to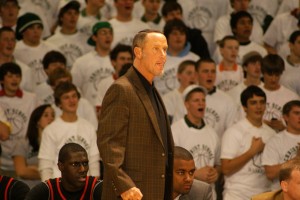 a comment, "Brandon Jennings is gone," taking it as if that meant he'd be handled with ease.  We will provide quotes from many of the players in a game article that is in the works.
Short turnaround - Christ School is in High Point for a game today.
Greenie support - Christ School support was impressive and at times funny as their student body sat directly behind the Oak Hill bench.
Mason Plumlee- Plumlee had 24 points but struggled from the three point stripe.  The lack of three point shooters helped doom Christ School in their comeback effort and Mason was trying to put his team on his back.  This caused him to force a few shots and late in the game the calls were not going his way.  It was not one of Plumlees better games despite his MVP for his team, but he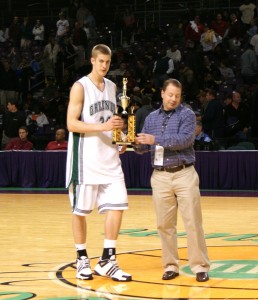 was by far one of the only players on a talented team to show up.  He was helped by Lucas Troutman, a junior who had a nice game around the boards.  His brother, Marshall played sparingly.
Coaches there - Nate James of Duke, Oklahoma, Murry State, UNC Greensboro, Harvard, South Carolina, Dino Gaudio and assistants from Wake Forest
Overheard - Assistant from Wake telling a players Father, you know I cannot speak to him talking of an Oak Hill player.
Most watched prospect- Deuce Bello, a sophomore from Westchester Country Day.  You'll be hearing a lot more about this prospect.  It may be worth noting that Nate James stayed for his entire game in the nightcap.
More on Deuce- He stands 6-3 and has blazing speed in making his moves like slashing through the lane.  He is a quick leaper and a showboat dunker.  He is very fast with the ball off the dribble and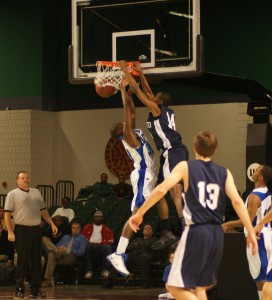 has a solid handle.  His defense needs work as does his outside shot.  He looks like a top ten player in the class of 2011.  He handled PG for his team, but will fit more as a wing guard in college.  I was able to watch a DVD of another game he wasx in and will break him down shortly.  I look forward to seeing him again. [/private]