[private]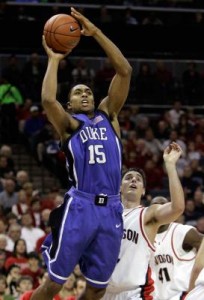 In an August 27, 2008, preview of Duke's out-of-conference schedule I wrote the following passage on Purdue:
"The early season road game at Purdue will be a litmus test for the Blue Devils. Purdue, ranked number six in the CBS Sportsline preseason poll, returns all but one player off of last season's 27-9 squad. Small forward Robbie Hummel was First Team All Big Ten, guard E'Twaun Moore was Second Team All Big Ten, and guard Chris Kramer was voted Big Ten Defensive Player of the Year. The Boilermakers are talented and experienced as they return 65.1 of the 69.6 points per game scored last season. On defense, Purdue forced their opponents to turn the ball over an average of 17.4 times per game. This will be a tough road game and should be a good indicator of Duke's toughness."
Let's revisit my words now that both teams have played six games and are set to play each other on Tuesday. The game at Purdue in the Big Ten - ACC Challenge will be a tough road game and a litmus test for the Blue Devils. Purdue will enter the game with a 5 - 1 record after dropping an 87 - 82 overtime decision to Oklahoma in the championship game of Dick's Sporting Goods NIT Season Tip-Off. Oklahoma made 33 - 46 free throw attempts in the game with Purdue only going to the line for five attempts of which they made four.
The Boilermakers are a perimeter oriented team with a couple of big players providing some balance. Nemanja Calasan (6'9" 250) is averaging 10.7 points and 4.8 rebounds per game, while JaJuan Johnson (6'10 215) is contributing 9.8 points per contest. The big guns for Purdue are E'Twaun Moore and Robbie Hummel. The two combine to score 30.9 of the 77.7 points per game Purdue is averaging. Reigning Big Ten Defensive Player of the Year Chris Kramer is averaging 1.8 steals per contest and will be tasked to prevent Duke's perimeter gunners such as Jon Scheyer and Greg Paulus from achieving good looks at perimeter shots.
Keys to the game:
1. Free throw shooting/foul trouble will be significant. Over their first six games, Purdue has made 78 of 103 free throw attempts, while Duke has connected on 145 of 197. Duke needs to be aggressive on offense utilizing crisp ball movement and motion to create mismatches that result in fouls. While both teams have a deep bench, neither team can afford to have starters unavailable due to foul trouble.
2. Purdue is shooting 33 percent from behind the three point arc, while Duke is connecting on 31 percent. If one team gets hot from downtown it will spell trouble for the other. Both teams are perimeter oriented so this key represents strength against strength: perimeter defense versus perimeter offense.
3. Rebounding is the next statistic to keep an eye on. Duke was out rebounded by Duquense in their last game. Purdue is a quality opponent and Duke must limit second chance points in order to beat the Boilermakers. Both teams will attempt to convert long rebounds off of missed three point attempts into transition scoring opportunities.
4. Health at the point guard position is vital for the Blue Devils. Nolan Smith has been hampered by back spasms recently and he took a hard fall in the Duquense game resulting in him spending the end of the game on the bench with an ice pack on his lower back. Purdue guard E'Twaun Moore is a 6'4" offensive juggernaut so if Smith isn't near 100 percent freshman Elliot Williams may have to step up to provide on-the-ball defense against Moore.
In the end, this game should come down to which team executes their game plan and forces the other team out of their comfort zone. The teams are evenly matched and play similar styles to each other. When it comes to star power, I predict versatile forward Kyle Singler will outperform Robbie Hummel to give Duke an advantage. Purdue has the home court advantage but it will not be enough as long as the Blue Devils bring their "A" game. If Duke leaves their intensity in Durham, it could be a long evening. I'm confident "intensity" will have a first class seat on the trip to West Lafayette.
Bob's prediction: Duke 85 - Purdue 81.[/private]