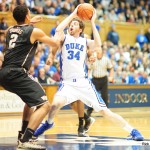 DURHAM, N.C. - While Mason Plumlee has been the one player on the team to get most of the hype in the #1 ranked Duke Blue Devils 14-0 start, fellow senior Ryan Kelly is just as important in many ways. One of the keys to this seasons success has been the two seniors ability to play together and to their strengths and for Kelly that means doing whatever it takes to help his team to win.
Kelly is coming off a season high 22 points in the Blue Devils opening ACC win over Wake Forest and he was amazingly proficient in that he played a mere 18 minutes before fouling out. It was the fourth time in his career he had 20 plus points against the Deacons and several of the in state teams which recruited him are now feeling his wrath.
"He's just a terrific player. What makes him such a great player is he can shoot the three and he is very crafty in the post," said Wake Forest Coach Jeff Bzdelik.
One of three senior captains, Kelly has been very instrumental in doing what it takes to win this season. He told Blue Devil Nation earlier this year that he was willing to do whatever it took after garnering a team high rebounds versus Florida Gulf Coast. And for those keeping count Kelly has tied or led the Blue Devils in scoring for two consecutive games and this is key when other players shots may be a bit off on a given day.
With an average of 13.5 ppg, Kelly is on track to become a 1000 point scorer in the Duke uniform which is quite the honor when you consider the talent that comes through Durham under Duke Coach Mike Krzyzewski. Kelly has started every game for Duke this season and that trend will continue provided there are no unfortunate injuries. In those 14 starts this season, Kelly has scored in double figures in all but one game.
If you do not watch the play off ball, you may not appreciate Kellys' skill set. There have been several games where he is near the top of the charts on assists and he leads the team in blocked shots with 25 thus far this season. "I think Ryan has the ability to score 20 points against anybody," said Duke Coach Mike Krzyzewski after the Wake Forest win. He continued by saying, "Ryan is really good. I think when opponents are trying to take Mason Plumlee and Seth Curry out of the game, it opens it up a little more for Ryan.
What Krzyzewski was saying is that Kelly steps up when other on the team struggle with areas of their game. An example was the fact that Quinn Cook dished a phenomenal 14 assists, just shy of the single game record set by Bobby Hurley, but he went oh for everything from the field. Kelly, coming off a team high 18 points in a road win over Davidson picked it up on the scoring end and his made three-point shots were daggers.
"One time he faked two of our guys and wheeled," said Wake Forest Coach Jeff Bzdelik. "He's smart, he's skilled, he stretches you out."
Being a senior, Kelly has been through three years of ACC wars and while he didn't play a great deal as a freshman, he dons a 2010 National Championship ring. Many pre season prognosticators overlooked the fact that Duke returned three seniors who knows what it takes to win and get to a Final Four and that experience from the likes of Ryan Kelly will continue to pay off handsomely for the undefeated Blue Devils as they get into the meat of the Atlantic Coast Conference schedule.
In his post game comments, Krzyzewski acknowledged Kelly was in the zone and said he would have kept calling his number. Kelly has earned the confidence of his coach with hard work and smarts when on the court. I think back to a conversation I had with his mom Doreen Kelly after Duke lost a heart breaker to Arizona in the Western Regional where she said, "I have told Ryan to run his own race," and that's what the senior co captain has done. And for Duke fans it's nice to see how hard work and perseverance has payed off.
Duke takes on Clemson tomorrow evening before a high noon, high-profile on the road showdown with N.C. State on Saturday in a game that will be hyped as the best two teams in the ACC going after one another.  But if you think Kelly is looking ahead, think again. "The 13-0 is gone now and we're 1-0 in the ACC," said Kelly after the Blue Devils ACC opening win over Wake Forest.
As a senior Kelly very much reflects the wise thinking of his coach and he knows that a magical season to date where the Blue Devils have defeated all comers will soon be forgotten if they stumble down the stretch.  And as long as Kelly is able, he is going to try to will that to happen.
Kelly, as well as his teammates know nice starts are just grand but what they do from this point forward will be remembered come April.