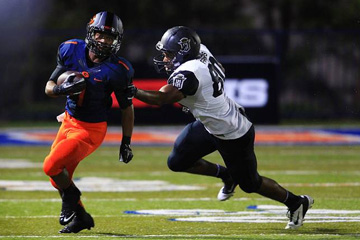 Since his arrival in Durham, Coach Cutcliffe placed a premium on recruiting playmakers with speed, and that strategy paid dividends in 2012, as the Blue Devils went to their first bowl game since the 1994 season. On National Signing Day last year, the Duke staff added a playmaker to the program from a strong Bishop Gorman program in Las Vegas, Nevada in RB Shaquille Powell. This year, the staff is hoping to add another playmaker to the fold, and will host WR Ryan Smith on an official visit this weekend. Smith, a 5'7" 160 pound prospect, committed to New Mexico back in December. His father has served as running backs coach at New Mexico, but changes with that program have opened new opportunities for Ryan. As a senior, Smith averaged over 20 yards per catch, and caught 14 touchdowns. BDN caught up with Ryan this week.
How did your senior season go?
Senior year went great.  I've actually only lost three games through my whole football career at Gorman.  I'm not the biggest player, and I won't be on the field, but I just have to use my speed in the passing game to overcome the bigger defenders - that's what I've been doing these last couple years.
Where do college coaches see you fitting in at the next level?
All the coaches I've talked to they see me as a slot back and a wild cat person and every college I go to I have opportunities to start as a freshman which is good.  I have had scholarships from Utah State, Colorado State and New Mexico and Duke.  Duke is on the top of my list right now.
Can you talk about your recruiting process and where things stand?
Well, New Mexico, they have been on me the most because my dad, he's there, he's the running backs coach there and I actually committed there a couple weeks ago but he's getting other job offers.  Once he found out that Duke came in he said that's fine, that I could take a trip and look at other schools because he's probably not going to be at New Mexico anymore.  Once he found out that he had other job offers, he told me I could go out and look at other schools and Duke came in so that's why I'm taking a trip Thursday.
Can you talk about your relationship with the Duke staff?
I've been talking to one of the coaches, Coach Lubick for it seems like forever.  We've been talking since August.  He came out to spring ball and he saw me play and I talked to him there.  I've had other coaches come in throughout the year to talk to me, and finally on Tuesday Coach Lubick came again and told me I had a full scholarship and they wanted to get me out to North Carolina on Thursday. So, I was very happy when he said that, so I'm going to be really excited to get out there.
One of your former teammates, Shaquille Powell, is at Duke now. Can you talk about your relationship with him and what you know about the Duke program?
Yes, he's actually going to be my host up there.  We're great friends actually we were best friends when we were in high school. They see me as a slotback too.  They throw the ball a lot.  I think they ranked first in the ACC in passing yards and they said that they threw the one game, I think it was the bowl game, they threw to the slotback at least 30 or 40 times.  They said that the slotback they have now, he's not really what they need.  He's more like the running back type but since they think that I'll be a great fit for the offense and everything that they're doing.
What will you be looking for on your official visit this weekend?
I just want to see the campus and obviously the academics and how they deal with their athletes.  But mostly I just want to see the campus and see how the players are and getting around them and see how I like it.
When do you plan on making your final decision?
Well I know I think signing day is February 6th.  I'm probably looking at making a decision … my dad and I will make the decision probably either next week or the week after that, one of those weeks.