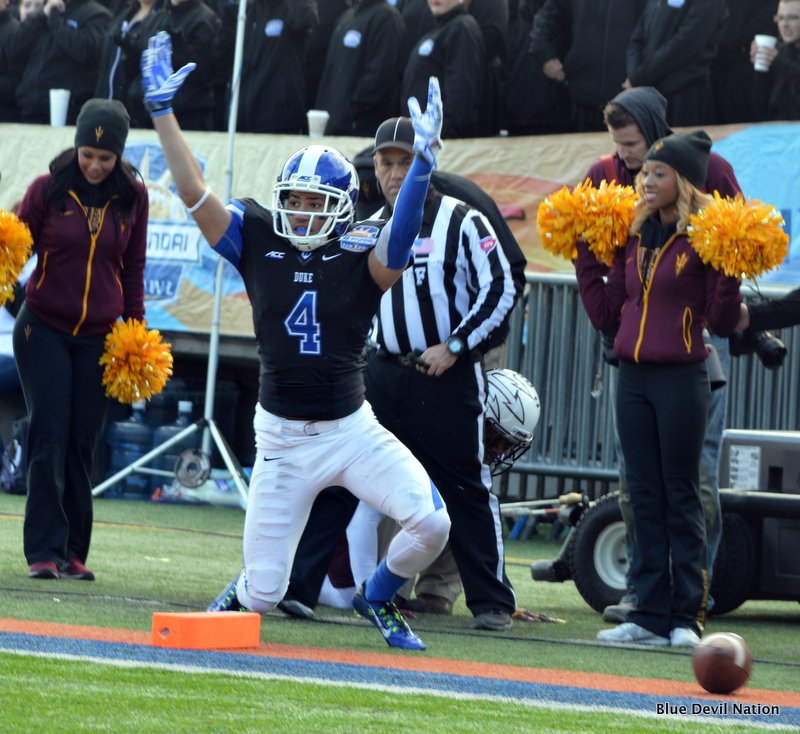 Duke's primary offensive formation features a single running back, a tight end and three wide receivers. Max McCaffrey is the lone returning starter at the wide receiver position resulting in two open starting slots.
A balanced offensive attack has been key to Duke's success over the past several seasons. In 2014, the Blue Devils scored 47 touchdowns from scrimmage with 23 coming through the air and 24 on the ground. On plays from scrimmage, Duke passed the ball 49 percent and ran 51 percent of the time. Duke gained 2,814 yards through the air, while rushing for 2,364.
While an increased emphasis on the running game is expected in 2015, maintaining offensive balance via the passing game will be a prime objective for Head Coach David Cutcliffe and Offensive Coordinator Scottie Montgomery. When the running game is clicking, the play action pass becomes a valuable weapon.
Max McCaffrey has 65 career receptions for 698 yards and seven touchdowns. He is a sure handed receiver capable of working in minimum space over the middle of the field. McCaffrey recorded a career best seven receptions for 79 yards and two touchdowns in Duke's 41-3 victory over Kansas. He has started 25 games over his first three seasons as a Blue Devil.
The receiving corps will be young so McCaffrey leveraging his experience to provide on field and locker room leadership will be vital to ensuring the receivers maximize their productivity.
Johnell Barnes' bio at GoDuke.com lists him as a starting wide receiver and he is the odds on favorite to be a top receiver in 2015. Barnes has shown flashes of brilliance over his first two years so a break out season as a junior would not be a surprise. Barnes is a strong runner who can gain significant yards after catching the ball.
As a true freshman, in 2013, Barnes averages 14.5 yards per reception with a long of 50 yards. His yards per reception decreased to 10.3 during the 2014 season, but his total number of catches increased. Barnes has caught 38 passes for 454 yards and one touchdown over the first two seasons of his career.
Chris Taylor is a redshirt freshmen who has impressed the staff since his arrival on campus prior to the 2014 season. His bio at GoDuke.com lists him as a starting wide receiver. Taylor has good size at 6'1" with all reports leaking out of practice indicating he is an excellent route runner who possesses all the requisite physical skills to develop into a special player.
When practice opens in August; McCaffrey, Barnes and Taylor will be designated as the starters. Will they be the starters in New Orleans on September 3? The question this article seeks to explore: who steps up and challenges for one of those starting spots?
Here are the candidates wide receivers coach Jeffrey Farris has to work with:
Anthony Nash is 6'5" and fast. Those are tremendous physical skill sets, which set him up to compete to become an impact player. He is currently listed as a second string wide receiver. Nash, a rising redshirt junior, has caught five passes for 47 yards in 16 career games. He has the tools to be a deep threat, which can stretch defenses vertically, if he can take the next developmental step. Nash is definitely a player to keep an eye on in 2015.
Trevon Lee is a highly thought of redshirt freshman currently listed as a second string wide receiver. He was considered a leading candidate to play as a true freshmen last season but remained on the sidelines due to Duke being deep and talented at wide receiver. Lee will see the field and produce results in 2015.
Ryan Smith is currently listed as the second string slot receiver. He played as a true freshman and has caught three passes for 41 yards. He has returned four punts for 90 yards. Smith struggled with an ankle injury for part of 2013. In the victory over Georgia Tech in Atlanta, he recovered two Yellow Jackets onside kicks to help preserve Duke's lead.
Quay Chambers is another big receiver at 6'3" 220. He spent his redshirt freshman year at quarterback before transitioning to wide receiver in the Spring of 2014. Coach Cutcliffe described him as an exceptional athlete back in August 2013 after Chambers ran 63 yards for a touchdown in a team scrimmage. Chambers possesses explosive big play potential and seems tailor made to see action as the motion receiver, a position where his running abilities could be utilized via the jet sweep or end around.
Terrence Alls had a terrific spring practice highlighted by his being named most improved offensive player. Unfortunately, he was subsequently suspended from game competition for a violation of team rules so his status for the 2015 season is currently unknown. His status is expected to be updated prior to the season commencing, but there is no guarantee.
And there are two true freshmen on the roster who will head to practice in August intent on jumping over the competition to earn immediate playing time:
T.J. Rahming shined at the U.S. Army All American Bowl scoring two touchdowns against top level talent. He is dimunitive at 5'10" 165 so adding strength will have to be a priority for his development. Rahming is an interesting situation as his size definitely singles him out as a redshirt candidate; however, his talent level indicates he could make an immediate impact.
Aaron Young is 6'2" 200 and a redshirt candidate in 2015.
The 2015 receiving corps will be a young group, but they are a group with a great deal of unproven talent which equates to unlimited potential or a high ceiling. It will be important for the group to take advantage of the favorable early season schedule, four home games in a row after the opener at Tulane, to work out the kinks in order to be firing on all eight cylinders when the calendar turns to October and the conference schedule starts in earnest.
Football Friday: Wide Receiver Competition