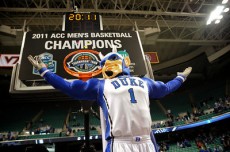 Firstly, I hope everybody is having a great Monday.  I have been missing in action of late for various reasons, but I am back for another edition of Monday Musings.  As the weather warms, one might think basketball takes a break but that simply isn't the case.  BDN Premium kicks off its AAU Basketball coverage this week where we'll report from the Nike EYBL Boo Williams Invitational in Hampton, Virginia.  As many of you already know, we have refined our coverage and set the pace in years past and this one should be no different.
I know some are hanging on to hope Kyrie Irving will return and I of course hope he does, but the harsh truth is that he would be a really high selection, top five for sure.  There will be several issues to consider for the Irving family including the possible lock out.  And just how many kids will enter their name for good this season?  This may or may not be a weak draft depending on said decisions.  Irving may actually be more marketable by returning to Duke with concerns to endorsements for playing in just a few games lowered his visibility.  The Irving family will likely have some news before the week is out.  Question is this ... does Kyrie want to be stuck in Cleveland or in Minnesota?
Duke is very much involved with DeAndre Daniels, a 6-7 forward with length that could be the final member of the class of 2011.  Word is he may visit the Duke Men's Basketball Banquet on April 15th but nothing is etched in stone just yet.  Regardless, the Blue Devils will get a visit and soon and his addition would be quite the pick up for Coach Mike Krzyzewski.  For more on Daniels check out the members only BDN Premium message board.
As you know, BDN follows the team throughout the season, covering them in person to bring you as close to the action as possible.  We followed the team to Anaheim, California but this season the Devils fell short.  The loss was a tough one for the faithful but it should be noted that 32 wins and an ACC Championship is something other fan bases would die for.  It was a good season that ended a bit too soon, but still one where you can hang your head high.
Well, I held in the emotion after last weeks loss to Arizona, until ...  After the game, the last thing I wanted to do was interview the players as you could see by our cut backed versions.  For some reason the next morning, I felt unusually compelled to go down to the vast hotel lobby of the Hyatt Regency in Orange County around 8:00 A.M. pacific time.  Sure enough once off the elevator, there was Nolan Smith, Kyle Singler and Josh Hairston dragging their wears behind them on the way to the bus.  I wished Nolan well and gravitated towards the corner of the doors leading to the three buses but stayed to the far end.  I watched as Nolan and Kyle loaded their gear one last time and entered the bus , knowing it was the last time I would see this, while simultaneously thinking of what the two seniors had done for Duke including last seasons glorious national title.  That is when I felt the tears well up.  I turned fighting them off as the rest of the team and assistants came by, getting a nod from them while again, staying out of their way.  But it was when Mike Krzyzewski, the last one to come down the long corridor  that truly choked me up.  The man had his chest held high, completely composed as he always is in public, showing that he was indeed the strong leader of the bunch.  Coach K made his way over, walking out of his way and acknowledged my presence and that always means a lot to me.  He did the same with about three or four other people in what was a literal handful of well wishers before boarding the bus headed to LAX.  I suppose I realized how much I loved what the team had done and their collective character at that time and his handshake kept me from holding in the emotion as a couple of crocodile tears streamed before I caught my composure.  Hey, I was crying like a baby on the inside.  As the buses pulled away I thought how awesome it was to have been on the journey with them from start to finish.
When you are on press row, one must remain professional at all times, not wear team colors and not cheer.  There is very little monkey business during the team beat run unlike the AAU and or recruiting season and there is  a world of difference in the two.  Everybody can seemingly get credentialed to AAU events and fan boys are a dime a dozen.  The problem is that it has become unprofessional beyond a few.  Back stabbing, posturing, rumor mongering, petty jealousy and outrageous accusations not to mention boorish self serving behavior is the bad part of it and it is more prevalent than one might think.  I recently spoke with some long time legends of the business about the climate and all three agreed that most recruiting media are clueless to traditional media protocol and some are quick to act like twelve year olds.  I can assure you that the staff at BDN will mind their own business and we can only hope others do the same, keeping their pride and ego's in check.  It'd be nice to see some tend to their own house this year.
Had one told me Butler would return to the National Championship game again this season, it would have been a tough sell to get me to remotely consider the possibility.  Well, here we are with one of the nations hottest teams in Connecticut taking on what will essentially be America's Team in the Bulldogs.  I will be rooting for the four year guys, that's for sure.
In case you missed it  former Duke star Thomas Hill in alongside Grant Hill and Chris Carrawell to counter Jalen Rose's outlandish accusations.  Meanwhile, Rose responded by getting a DUI.  Try telling the street wise CWell that growing up in the St. Louis hood paved his lily like path and he'll tell you different.  One thing is certain, Duke haters are a dime a dozen these days but their hatred is a personal issue and are rarely if ever based in actual facts.
Football recruiting is heating up and premium members have been reading Patrick Cacchio's weekly football column each Friday.  There you will go behind the scenes with all things Duke Football.  We're just getting started with our converge, so stay tuned all summer long leading to the opening game with Richmond.