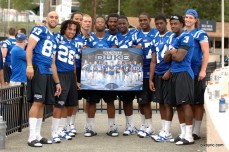 The Alabama Crimson Tide (2-0) roll into Wallace Wade Stadium on Saturday, for a showdown with the Duke Blue Devils (1-1), in a contest that has everyone associated with Duke football giddy with anticipation. Alabama is the number one team in the nation and the winner of 16 straight games. The odds makers have the Crimson Tide as a 23 point favorite. The game will be televised by ABC Sports and will also be available on ESPN3 with kick-off scheduled for 3:30 pm EDT.
Blue Devil Nation is urging all Blue Devil fans in the area to show up and support the team on Saturday afternoon. Alabama has a dedicated traveling fan base and a sea of red will be present in Durham so the Duke faithful need to counter with a Blue Out in support of our Blue Devils. Duke has installed temporary bleachers behind the open end zone and in various locations along the concourse so break out your blue and head over to Wallace Wade Stadium for a fun filled afternoon of college football.
Duke in Week 2
Duke suffered a disappointing 54-48 defeat at the hands of the Wake Forest Demon Deacons last Saturday. Turnovers and big plays plagued the Blue Devils on a rainy afternoon in Winston-Salem. A fumbled snap on a punt and three intercepted passes resulted in 21 points for Wake Forest which was too much for Duke to overcome.
Duke is ranked number six in the nation in passing offense and number nine in total offense. Wide receivers Conner Vernon, Donovan Varner and Austin Kelly are the headliners in a deep and talented receiving corps. The three have combined to catch 44 passes for 584 yards in Duke's first two games.
Running back Desmond Scott is averaging 99.5 yards rushing per game, which is tops in the ACC.
Alabama in Week 2
Alabama is coming off a dominating performance in a 24-3 drubbing of the Penn State Nittany Lions, after beating San Jose State 48-3 in their season opener. Alabama has not allowed an opponent to score a touchdown so far this young season, which is why they possess the number one ranked scoring defense in the nation.
Against Penn State, Alabama rolled up 409 yards of total offense with running back Trent Richardson carrying the ball 22 times for 144 yards and a touchdown. Senior quarterback Greg McElroy added 229 passing yards including two touchdowns. McElroy has the fifth highest quarterback rating in the nation at 191.12.
The Crimson Tide offense will receive an extra boost with the return to action of 2009 Heisman Trophy winner Mark Ingram who sat out the first two games recovering from arthroscopic surgery on his left knee. He is currently listed as day-to-day, but is expected to play on Saturday. Ingram rushed for 1658 yards last season.
Analysis
Duke cannot turn the ball over! Alabama's potent offense can grind out possessions with Trent Richardson and Mark Ingram running the ball behind their big physical offensive line so providing Alabama with extra possessions by turning the ball over would be fatal.
The offense must play to their full potential by executing the game plan on every possession. Saturday is one game day the offense needs to be flawless. It will be imperative Duke convert third downs into first downs in order to sustain drives and allow their defense to stay off the field. Keeping Alabama's offense off the field by dominating time of possession is an effective defense.
To dominate time of possession, Duke must run the ball at times. Desmond Scott is averaging 99.5 yards rushing per game and has broken two long runs for touchdowns: 63 yards against Wake Forest and 34 yards against Elon. True freshman Josh Snead has not broken a run into the secondary yet, however, with his speed he will surely break free for a couple of long gainers before the year is out.
Taking advantage of Alabama over pursuing on defense with designed cutback runs and misdirection plays will force the Crimson Tide to address our threat to run and open up the passing game for Sean Renfree to throw the ball to wide receivers Conner Vernon, Donovan Varner, Austin Kelly, and tight ends Brett Huffman, Brandon King and Cooper Helfet.
On defense, Duke must contain the Alabama running game and force McElroy to beat the Blue Devils by throwing the ball. McElroy has a quarterback rating of 191.12; however, he has only thrown the ball 40 times this season, which is less than half Sean Renfree's 83 attempts. Forcing the outcome of the game onto McElroy's ability to successfully throw the ball down the field gives Duke an advantage.
Just like Duke cannot afford to give Alabama's offense extra possessions, Alabama cannot afford to give Duke's potent passing attack extra opportunities to score points, so a turnover or two would benefit the Blue Devils tremendously. Duke is averaging two interceptions per game and if the secondary can come up big on Saturday it would go a long way toward Duke containing Alabama's offense.
Duke will need their special teams to be special. With good kicking and kick coverage, Duke can force Alabama to play the full length of the field. The opposite is equally true. Duke must excel on kick and punt returns to shorten the field for the offense. If Duke allows Alabama to play on a short field, it will increase the difficulty of containing the Crimson Tide offense.
In summary, Duke must commit no turnovers, convert on third down, control the clock by sustaining drives, run the ball enough to keep Alabama's defense honest, focus on containing the Alabama running game, force Alabama to make mistakes, and be special on special teams.
BDN Prediction
This is a golden opportunity for Duke football to show the entire nation it is ready to return to the big stage under Coach David Cutcliffe. The Blue Devils will move the ball and score points on the Crimson Tide but, in the end, Alabama will prove too talented and deep for Duke to handle. The BDN staff consensus pick is Alabama 51, Duke 22 in a game which will send a warning shot across the bow of future Duke opponents. Duke may come up short in this game but the Blue Devils will prove they are a team that can move the ball and score points against any defense in the country, and when a team can score points they are always a dangerous adversary.