[private]
DURHAM, N.C. -- All-ACC defensive tackle Vince Oghobaase announced on Monday that he will return to Duke for the 2009 football campaign to play his final season of eligibility for the Blue Devils.
Oghobaase has fulfilled requirements for his degree in sociology, and will continue his undergraduate studies to pursue a second degree as well as a certificate in markets and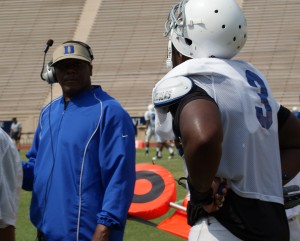 management.  Earlier this month, he submitted his name to the NFL draft advisory board and received confidential information regarding his potential status for the upcoming 2009 draft.
"I honestly feel there is a time and place for everything, and deep down in my heart I know Duke is where I want to be next year," said Oghobaase.  "When we arrived here, we set some goals both academically and athletically and we have some unfinished business on the field.  We want to continue to turn things around for the program and we have a great foundation for success.  We have some outstanding players returning on both offense and defense and in the kicking game.  We have holes to fill as we lost some great seniors, but the foundation is there.  On the defensive line, we have Ayanga (Okpokowuruk), Wesley (Oglesby), Kinney (Rucker), Charlie (Hatcher), Patrick (Egboh) and Brandon (Harper) all coming back with experience and we will strive to be an exceptional unit.  If we continue to work hard as a team and do everything the coaches ask of us, we can reach our goals of winning games and playing in a bowl game.
"I was dissatisfied with receiving honorable mention All-ACC last year," continued Oghobaase.  "I am highly confident with another year of development I can earn first team all-conference, All-America and defensive player of the year honors.  These are very attainable goals.  I know I can develop further under strength Coach (Noel) Durfey and d-line Coach (Marion) Hobby.  I feel another year with them will put me over the top and evolve me into one of the elite defensive tackles in the country.  I accomplished my goal of graduating from Duke, and now I'll concentrate on the markets and management certificate.  That will be just another thing in my pocket I can use after football."
Oghobaase will be one of five returning starters on a defensive unit that made significant improvement in scoring defense (-

9.8

), total defense (-

67.4

), rushing defense (-

28.7

) and passing defense (-3

8.7

) while facing the second-most difficult schedule in the nation -- a ledger that included 

10

bowl eligible teams and the top-ranked FCS squad in James Madison

.
"This decision indicates Vince's strong commitment to both his education and our football program," said Duke head coach David Cutcliffe.  "I think he probably shocked some people when he chose to come to Duke four years ago, and I think this decision will probably shock some people.  But people need to understand that Vince is a young man 

of great character

who has a 

tremendous

understanding of what is important.  He values faith, family, education, hard work and the desire to be successful.  Choosing a college to attend isn't a four-year decision, it's a forty-year decision, and Vince wants to make sure that his total college experience is the best it could possibly be.  Vince did his homework and reached this decision.
"In regards to football

, it is w

ithout question

that

we're thrilled to have one of the best defensive tackles in the country returning for his senior season," continued Cutcliffe.  "

He'll have an opportunity to earn All-America recognition next year. 

Vince will continue to get better under the guidance of Marion Hobby, and I'm confident that he will put himself in a better position for the professional football ranks over the next 16 months."
Oghobaase enrolled at Duke in January of 2005 following a prep All-America career at Alief Hastings High School in Houston, Texas.  After redshirting his first season, he has started
the past 36 games on the Blue Devil defensive front, amassing 128 tackles, 29.0 tackles for loss and 11.5 quarterback sacks.  His 29.0 career tackles for loss rank 11th on Duke's all-time chart.  Oghobaase has played his best football late in the season, posting 14.0 tackles for loss and 6.5 sacks in 11 career November games. 
This past season, Oghobaase posted 51 stops, 9,0 tackles for loss, 6.0 sacks and five quarterback pressures, ranking 10th in the conference in sacks.  En route to earning honorable mention All-ACC honors, Oghobaase closed the 2008 campaign on a high note by registering 25 tackles, 6.5 tackles for loss and 4.5 sacks over the final five games of the year. 
[/private]