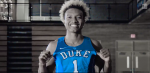 If you have read some of the articles in the national media of late, you would think Duke Basketball was in trouble.  In a Yahoo report released yesterday, there was tale of a ledger which said an agent had dinner with the Carters in 2016.
"I don't really know a lot about what happened.  It really wasn't that much of a distraction because I know I haven't done anything wrong nor had my family," said Wendell Carter Jr. after his teams 70-54 win over Syracuse.
About that time, Trevon Duval yelled, "Yeah, man, he's good, right?"  His teammate was looking to save Carter from what had been non stop questions on the Yahoo report and not his stellar game.
If Wendell Carter was bothered in any way by the minor accusation his numbers did not show it.  In fact, he had the best stat line of any Duke player with 16 points, 10 rebounds, 4 assists, 4 steals and 2 blocked shots.  He was also 6-6 from the free throw stripe.
"I just went out and played the game," said Carter.  He continued, I am just a player who wants to win.  I don't care if I score two points a game."
Carter also addressed the return of Marvin Bagley and that he thought the two would only get better as they played together.  "it was great to have him back, he is a great player on both ends."
Duke Coach Mike Krzyzewski cleared the matter with Carter up even more in his post game presser.  Krzyzewski said he was out walking his dog "Blue," when he received a call from Kylia Carter, who is Wendell's mom.
"Kylia called me at home when I was walking Blue.  And she said did you see the Yahoo report.  I said, Kylia, I am walking  Blue and I haven't seen the Yahoo report.  And she was nervous about and I said tell me about it.  And she said, Coach this is what happened.  A couple of years ago through a friend we met this guy and we were suppose to get something to eat.  As soon as Wendell's father sat down, he did not like the guy and he left.  She said, you know, I am a good southern girl from Mississippi, so I just stayed there a little longer.  We did not have anything to eat and we left and never had anything to do with them," said Krzyzewski.
The Duke coach then said, "Please don't be nervous.  We met at 9:00 with our compliance and at 11:00 Kevin White (Duke Athletic Director) arranged for compliance to meet just with the Carters.  Wendell has never... he didn't know anything about it.  So, they went through with preparation just like you would do with the NCAA and they let them know about that.  Our team here at Duke did a great job providing the help a player and parent would need.  And I applaud the NCAA for working so swiftly.  It is too bad every item mentioned (in the report) had the same magnitude.  It was a little bit of a rush to judgement, but that is the world we live in today."
Krzyzewski said he felt comfortable in using Carter in the win over Syracuse in that there were no violations committed.
"Ledgers are ledgers. It is not the Ten Commandments.  I think everybody should be careful on rushing to judgement with something like that.  It was an alleged ledger entry," said Krzyzewski.
"We don't feel like we were taking any chances with that particular thing," added Krzyzewskl.