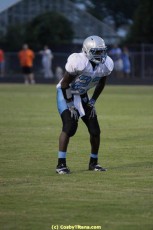 With national signing day just a few days away, football recruiting will officially transition from the class of 2011 to the class of 2012. Duke kicked off the 2012 recruiting season this past weekend with the first of two Junior Days in Durham. Over 100 prospects made the trip to campus and most came away impressed with the Blue Devil program. BDN kicks off our coverage of the class of 2012 with a series of interviews with this weekend's visitors.
C.J. Stancil is a 5'11" 185 pound athlete from Chesterfield, VA. As a junior, C.J. was named 2nd-team All District at running back. The speedy prospect visited Durham for Junior Day and came away impressed with what the program has to offer. Highlights of C.J.'s junior season can be viewed here.
BDN: Can you start off by describing the strengths and weaknesses of your game for someone who hasn't had a chance to see you play?
Well, on defense, on the defensive side of the ball, I'm a ball-hawk. I'm always near the ball, flying to the ball and I go 100% every play. I'm very physical and I have good feet. On offense, I just like contact, also I play running back, so I like to get the ball and get in the end zone.
BDN: As you work this spring and summer, what are some of the goals you have for yourself individually and your team next fall?
My #1 goal is to make the playoffs this year. That would be a great achievement for our school because we've only been open for 5 or 6 years and our football team has never made the playoffs, so that would be my main goal. Individual-wise, I would like to make the All-Dominion District Team and possibly All-State. I want to win Districts too, of course, for our team. That would be good.
BDN: What are the most important things you are looking for in a college?
I'm just looking for an environment that fits me well. I'm looking for the coaches to be – to seem like they actually care about you and want the best for you, and to really know what they're doing. I just really want the coaches – I'm not really sure exactly what I'm trying to say, but I just want an environment that fits me and feels at home to me. I could actually see that at Duke the other day. I really liked the vibe I was getting from the whole campus and the coaches and everything.
BDN: What schools have you recently heard from? Who was the first school to contact you?
Duke has contacted me, UVA and Rutgers were some of the first one. U of R [Richmond] came by the school, Virginia Tech also came by the school, and Liberty, a 1-AA school. That's about it. Those are pretty much the schools I'm considering. I've also heard from Wake Forest through the mail, and Tulsa and Missouri, but those were only through the mail.
BDN: What are your plans for visits and camps?
No doubt. I'm trying to get out to a lot of the junior days. I'm going to UVA's junior day, I'm going to U of R's junior day. Those are coming up pretty soon. I'm looking to go to Wake Forest too, maybe.
BDN: It's still very early in the process, but ideally, when would you like to make your college decision?
I would definitely like to take my time in my decision. Probably towards the end of the season. I don't want to be too quick in my decision.
BDN: Is there anything else you think is important for ACC football fans to know about you?
My grades are very good in school. I take pride in my grades and try to keep those up because I know that's important. I haven't decided what I want to study yet, I just want to keep my options open.
BDN: Thanks a lot, C.J. and best of luck.
No problem.