With national signing day approaching, football recruiting will officially transition from the class of 2011 to the class of 2012. Duke kicked off the 2012 recruiting season this past weekend with the first of two Junior Days in Durham. Over 100 prospects made the trip to campus and most came away impressed with the Blue Devil program. BDN kicks off our coverage of the class of 2012 with a series of interviews with this weekend's visitors.
Jaleel Dukes is a 6'2" 190 pound receiver from Woodbridge, VA. After missing most of his sophomore year with an injury, Jaleel is now considered to be one of the top receivers in the state. Though it's still early in his recruitment, Duke made a good impression during his recent visit to Durham.
BDN: Can you start off by describing the strengths and weaknesses of your game for someone who hasn't had a chance to see you play?
My strengths are my size because I'm a bigger type of person, I've always been bigger. I used to play basketball so going up for the ball, I can block other people off. My weaknesses sometimes I tend to slack a little bit sometimes when I'm tired, you know, stamina issues. I'm a good route runner. I work on my routes everyday. I'm just a hard worker.
BDN: As you work this spring and summer, what are some of the goals you have for yourself individually and your team next fall?
Become a better leader on offense and defense. I want to get the most catches and the most yards in a season, that's a really big one for me and my family. They've always wanted me to do that. That's really about it. Just becoming a leader not just for my team, but for younger kids, like JV and freshmen. Becoming a role model for them since they're new to the school.
BDN: What are the most important things you are looking for in a college?
Atmosphere and family. That's a really big thing. I really enjoy having a family there because coming in as a freshman, you don't really know the college style and the college life and that'd be a good place to go. Somewhere like Duke, Duke would be a really good place.
BDN: What schools have you recently heard from? Who was the first school to contact you?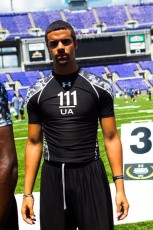 Clemson was the first, and Virginia Tech.
BDN: What are your plans for visits and camps?
I want to visit Duke again. I want to visit there. I want to visit North Carolina, Clemson, and Virginia Tech.
BDN: It's still very early in the process, but ideally, when would you like to make your college decision?
I'm going to make the decision when the time is right. I'm not going to really worry about it, I'm just going to let things fall into place. I'm not going to rush anything. I don't want to stress about it. I just want to play football and get this state title.
BDN: Is there anything else you think is important for ACC football fans to know about you?
I'm a good person. I don't involve myself with anybody that's going to mess my future up. I go to church, I'm a church boy, grown up in the church, so that's a good thing.
BDN: Thanks a lot, Jaleel and best of luck to you.
No problem.