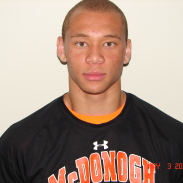 While Duke is working hard to improve their defense on the field this spring, the coaching staff is also working hard to upgrade the defense with a talented group of prospects in the class of 2012. Allen Jackson is a 6'5" 225 pound defensive end prospect from Owings Mills, Maryland. Playing defensive end and tight end for McDonogh High School, Allen earned All-Conference honors as a junior, and has already received offers from Duke, Maryland, Vanderbilt, and West Virginia. Highlights from Allen's junior year can be viewed here.
BDN: Can you start off by describing your strengths for fans who haven't had a chance to see you play?
As a player, I definitely think I use my hands and my quickness definitely to my ability, but I definitely think I play more of a finesse game than a power game, but I definitely see my hands and my quickness off the ball, as a strength of mine.
BDN: What are some of the things you're working on this offseason?
Off-season, it's just trying to be quicker off the ball, and trying to become stronger, and at the next level that's going to be one of the things I'm going to continue to work on as well.
BDN: What are your goals for your senior season?
Senior year, I want to be all-state, I want to have at least 15 sacks in a year, I just want to dominate.
BDN: As you approach your college decision, what are the most important things you are looking for in a school?
Definitely how I get along with the coaches, and how prestigious they are in their academics, and certainly how far they are from my family.
BDN: Who are the schools you have heard from the most so far? Who were the first schools to contact you?
Definitely Maryland was the first to contact me, and Duke as well, I've heard the most from them, but those were my first two scholarship offers, I've heard a lot from some some SEC schools, and a lot of the ACC schools as well.
BDN: Have you had a chance to visit any schools?
I've visited Maryland and Duke.
BDN: Do you have any plans for additional visits this spring or summer?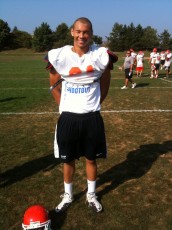 I definitely plan to visit some more of the ACC schools along the coast in the upcoming months, and I also want to probably go down to Vanderbilt, and another SEC school or two.
BDN: Have any schools stood out to you at this point in the process?
Definitely Duke, with their academics, it's a very high, prestigious school, and Duke is a school I can really see myself at.
BDN: Do you have an idea for when you would like to make your college decision?
Not at the moment, I'm just kind of going to take it as it flows in.
BDN: Thanks a lot, Allen, and best of luck to you.
Thank you. Certainly, certainly. You too. Bye.