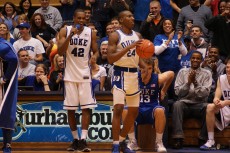 DURHAM, N.C. – The Duke men's basketball team tips off the 2011-12 season on Friday, Oct. 14 with the third annual Countdown to Craziness. For the third consecutive year, ESPNU will be on hand to cover the events as part of its four-hour Midnight Madness Special. GoDuke.com and ESPN3.com will carry the event in its entirety.
"Countdown to Craziness has been highly successful the last two years and we are excited to start this season with another terrific event," said head coach Mike Krzyzewski. "The start of the basketball season is always special, and surely, Friday will be a great experience for our players, staff and fans alike. We are looking forward to taking the floor in Cameron and getting the 2011-12 season underway in an exciting fashion."
Countdown to Craziness will feature live music, inflatable games, highlight videos honoring past champions and the Duke basketball tradition, videos by Duke University Improv, live performances and on-court contests as well as the annual Blue-White scrimmage and a dunk contest.
Broadcast legend Bill Raftery along with Lou Canellis will be on site for Countdown to Craziness as part of ESPNU's coverage of the opening weekend of college basketball.
Countdown to Craziness Schedule of Events
5:30 p.m. – Inflatable Games, Live DJ, Face Painting
7:30 p.m. – Doors to Cameron Indoor Stadium Open
7:30 p.m. – On-Court Promotions and Student Performances Begin
8:30 p.m. – 2011-12 Duke Blue Devil Player Introductions
8:55 p.m. – Blue-White Scrimmage (Two 12-Minute Halves With a Five Minute Halftime)
9:45 p.m. – Dunk Contest