[private]The Duke Men's Basketball staff will be more than just a little busy this week. On the first day that
they can be back out on the road, which is tomorrow evening, Coach K and company will have an in home with Kenny Boynton Jr. and his family.
Boynton is one of the nations top guards, arguably the best in the class of 2009. Duke has been recruiting him consistently for a long time. He reminds most Blue Devil faithful of Jason Williams. Williams won a national title, was named national POY which led to him being a lottery pick in the NBA draft. Like Boynton, Williams was a offensive scoring machine that could play both guard spots, but he settled in on the point at Duke where he learned the trade from Coach K.
Long the buzz of various basketball crazy Duke message boards, Boynton is a prospect that fans dearly want to see rock Cameron. There is a heated battle for his services and he's maintained all along that he would take his five official visits.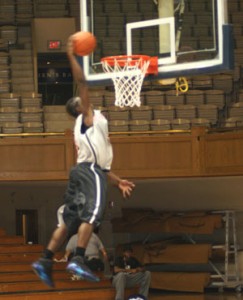 Florida has really turned it up for Boynton, attempting to make a move while Krzyzewski was coaching Team USA to the Gold Medal. Boyntons friend, Eloy Vargas is already a Gator and he is of course from the sunshine state like his friend.
If Boynton were to choose Duke he would remain in the constant media spotlight of a team which has every game televised and one which is in the basketball fanatical ACC. He could very well be the focus of any school he chooses in a list that includes USC, Memphis, Georgia Tech and Texas along with Duke and Florida.
Florida will come in the night after the Duke staff, but you can bet that there will be a lot to think about in the Boynton household. While UF has a wonderful basketball program, they sometimes play second fiddle to Gator Football. Still, the local allure might be as attractive as the national spotlight and playing for a living legend in Coach K.
In the end, the decision should come down to where can he better prepare for his goal of the NBA and which school will continue to support him once he is in the league. College will be nothing
more than a temporary stop for the talented Boynton but his choice will go a long ways in defining him as a future player.
Make no mistake that the Blue Devils covet and care about young Boynton. They want him to be a part of what looks to be a very talented team. Duke will always compete for national prominence, but the addition of Boynton would be another step towards a national championship.
The staff has layed it on the line and Blue Devil fans have followed his every AAU move. Now all they can hope for is that Boynton sees the golden opportunity available for him in Durham.
Blue Devil Nation Premium has covered Kenny Boynton from the very start and you can follow the process even closer by becoming a member. You can subscribe here. We will be moving to our new home very soon![/private]