The Kenny Boynton watch was in effect this past weekend.  Boynton visited the Gators on his official visit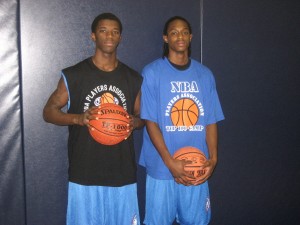 and despite some [private] pressure by Donovan to get him to commit, Boynton came away saying he would take his other visits.  In short, this means he will be in Durham.  I suppose a little excitement may ensue when he comes to town on November 8th.  ***Breaking - Despite the rumors, I have not confirmed any of them with those who really count.  While it looks as if he is a bit of a UF lean, I will wait for confirmation from legitimate sources.
ADDENDUM - Kenny has made a decision to forgo his visit to Texas this weekend and will choose his school live on ESPNU at 6:30 EST.  As of last evening, he had told the Duke staff, he'd be making the visit to Durham.  As of noon today, he had not told the coaches it was Florida for sure.  However, the prevailing feeling among those who count is that Florida is the choice.  The Duke coaches felt very good about Kenny up until last night.  So, they are allowing him to have his day in the sun whether it's good for them or not.
A lot of you are wondering about Brandon Knight.  Well, he's a huge priority, but is somewhat on hold until the Blue Devils finish up with Boynton.  If KB chooses elsewhere, Duke puts on the full court press.
Harrison Barnes had a nice visit and left with a good idea of what Duke was about.  He will certainly consider the Blue Devils who are a lock to make his final five or less.  Duke will stay in close contact with Barnes until the time he decides.
I talked to Josh Smith Sr. the Father of Josh Smith Jr. while setting up an interview.   Coach James just so happened to have talked with him earlier that evening.  When asked which teams were the most active Duke, Georgetown and UNC came up with of course UCLA.  He said his son would make a decision by the end of this summers AAU season.  He also mentioned that he could decide early, but that he expected they would visit the Triangle before a decision.  He grew up watching Michael Jordan at UNC, but also mentioned he loves Coach K. [/private]