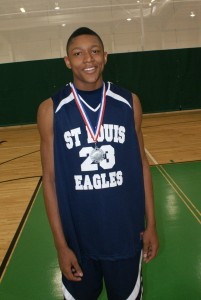 Every now and then there is a prospect who suddenly commands attention and that certainly applies to Brad Beal.  Some of you might be saying, "Who is Brad Beal?"  While a few folks in recruiting circles know of the 2011 youngster, there seem to be a great many who have yet to see Beal in action.  I mean, the Boo Williams Invitational rosters even have his named spelled 'Beel' and when mentioning his name to some over the weekend, they'd ask me, "Who?"
Part of the reason for Beal's former anonymity is due to the fact that as a freshman he averaged just 8.5 ppg.   But this past season Beal broke into the limelight by averaging 23.5 PPG, not to mention a 30 point effort in the state championship game.  In fact, Beal scored 26 points in the fourth quarter of another game in the regular season and ended the contest with 52.
The rising junior stands 6'-3" and weighs a solid 175 and is still growing.  [private] Many of the services have Beal listed as a shooting guard but, make no mistake, he possesses that rare ability to find the open man.  As I watched Beal, he impressed me with his ability to share the ball with his teammates despite his scoring prowess.
Beal would lead his teammates perfectly on the break, throwing them the ball where they could make the play by leading them to the basket.  He could thread a needle with his passing and is very quick with the ball.  Beal has a pull-up jumper to go with his knack for taking the ball to the rack for a dunk.  A dangerous player in the open court, Beal always seemed to make the right decision this weekend.
It's amazing how far ahead of the curve this young man's game is compared with those in his class.  He can drain the three, play good on-ball defense and fill the passing lanes.  He's a tweener in the best sense of the word, for he can run the point with ease.
While Beal may not be a household name to the recruiting public, he has already garnered the attention of Florida, Illinois, Kansas and Missouri.  Each of those schools have offered and many more pitches are on the way.  The sky is the limit for this youngster and whether Duke gets involved remains to be seen, but it's highly likely that if the staff catches his games, they'll like him.
After all, St. Louis has been good to the Devils, giving them former player and head team manager Chris Carrawell.  Stay tuned for more recruiting news from BDN Premium and enjoy the interview below where one comment is sure to stand out.  Trust me, you will hear the name Brad Beal in the future.
That was a tough loss out there, but you did everything you could to get your team to the championship game.  You had 29 points out there and are quite the scorer.  Where did that come from?
It's just the way I play.  The past couple of games I've been shooting the ball well, but knew I would have to shoot even better in the championship game.
Where did you learn you basketball skills?
My Mom.  Mainly my mom, because she always pushed me.  I''ve been working out since I was in, like, the third grade.
You're obviously close to your Mom.  Will she play a big role in your decision when the time comes?
Somewhat.  She supports me 100% so wherever I want to go she's fine with it.  She just tries to develop the relationships with coaches just like I do.
If somebody had never seen you play, how would you describe your game?
Real smooth and calm on the court.  I don't let a lot of things effect me and play as hard as I can every game.
You seem aggressive as well.  I saw where you are not afraid to get on the floor to fight for loose balls.  It seems like you are really able to find open guys too, leading them just right.  Is that something you work on a lot, your passing ability?
Yeah, I do, because I like to get my teammates involved - I'm not a selfish ball player.  I, like, to try to get everybody involved, that way everybody gets into the game and then we get up and down faster and score points.
Rumor has it that you are a heavy Florida lean, is that true?
Maybe, but I'm not sure right now.
Can you give me a list of schools which are showing interest?
Kansas, Florida, Villanova, Illinois, Purdue, Missouri are some of them.
Are you open to other schools coming in?
Yeah.
Do you have a time line on trimming the list?
I'm not sure yet.  I'm hoping to make it soon but not too soon.
Do you have aspirations to play in the NBA?
Yeah.  I know I have a long ways to go so I've got to work hard to achieve my goal.
Do you pattern your game or is there any particular player you watch?
Kobe for his ego and ability to score when it's on the line.  LeBron is great.  Ray Allen can shoot ...
Did you have a dream school growing up?
I liked ... not really.  Whoever has the most dominant team every year I usually choose them.
Who were you going to say you used to like?
Probably Duke because of JJ Redick.  I used to always watch him shoot.
What if Duke came into the picture, would you be open to them?
I would be open to Duke and any other school,
How are your grades?
I have a 3.8 GPA
Where will your team go from here?
We go to Arkansas next weekend and I know we are going to the Peach Jam.
Thanks for your time and good luck in your basketball future.
Thank you. [/private]