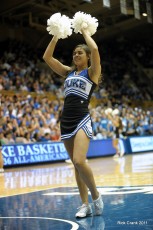 Chances are you need no reminder that this is the opening week of the basketball season where pretty much everybody in the nation plays on Friday.  The Blue Devils open the season with a true test in Belmont, a 9 p.m. prime time game on ESPNU. Of course, they then wake up the next day and take on Presbyterian at 4:30 on the same station.  Meanwhile the football team heads to Virginia trying to make it four in a row on the Cavs in a 3:00 game which conflicts with the men's game, not unusual for this time of year.
Duke opens with a dangerous and deep Belmont team
Unless one lives under a rock, they realize that the Duke and college basketball season opens for real this Friday.  In the first two pre season games Duke has looked like a work in progress in that they are.  But Coach Krzyzewski and company will have to bring their best game to defeat a Belmont team that won 30 games a season ago and they return everybody.  Belmont is a legitimate top 40 type team and they jumped at the opportunity to be a part of the new mainland Maui Invitational format and Coach K more than welcomed a season opening challenge for his young team.  "We have to have a chip on our shoulder, an edge,'' Byrd said. "We've got 10 of 12 back, and I would expect we'd be better. I feel good about us at every spot the way we play," said Belmont Bruins coach Rick Byrd," and you can bet they will relish the opportunity of playing college basketball royalty in Cameron.  Belmont played 10 players last season when they won 30 games having what Coach Byrd, who has over 500 wins, called 10 starters.  Bryd also said that his team would not lose their composure in Cameron and that a win would solidify his team as a top 25 contender.  Thankfully for Duke, their opponent on Saturday, Presbyterian will offer much less resistance.
Coach K and the record
Having been around Coach K quite a bit in the past, I can tell you that he puts his focus on the next game and never rests in the present or recent accomplishments.  But this season is a little different in that media types have been on campus daily for several coming special presentations which I will cover next week.  Look for a dizzying amount of material coming out as he will soon become the winningest college basketball coach in history.  This is where I could go into my vast amount memories since his first day on the Duke campus, but I am taking a cue from Coach and will visit this after this weeks games.  Still, all I can say is that Duke fans should stop and realize how lucky they are to have him as their coach and never forget his faithfulness to the university where he will remain for his entire career.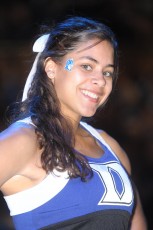 Youth will be served
For Duke to have success in the coming season, several freshman must take on key roles.  We all know about Austin Rivers and have no worries there, but the other freshman seem green.  Alex Murphy was awarded the start in the opening exhibition game and he failed to step up earning him the last spot on the bench in the next game.  Silent "G," otherwise known as Michael Gbinije has been just that, quiet and Quinn Cook while at times showing flashes of greatness has been making some mental mistakes from his PG spot.  Several times, all of the freshman were unaware of defenders and were stripped of the ball in the exhibitions and that means there is a long ways to go.  If Duke is to succeed this season, they will need one of the aforementioned three if not more to become key contributors in their role.  There is no reason to think this will not happen but there is reason to expect some significant growing pains while the process works it's way out.
Prospect Tony Parker could pick a school as early as this week
The behemoth post player that fits into the role vacated by the likes of Carlos Boozer, Elton Brand and Shelden Williams may be making his choice as early as late this week.  Parker is a key recruit for the Blue Devils and they have been courting him from the very start.  Parker will choose between Duke, Ohio State, Memphis and UCLA, but IMO, it is down to just two schools.  A careful examination of future rosters makes it clear to me where he should wind up with my objectivity cap on.  There is a good opportunity for Parker at Duke and perhaps he will see that Coach K has been there all along in the recruiting process or that his parents have favored the Blue Devils from the word go.  We'll have more on this one in our Blue Devil Nation Premium section, out extended subscription service which brings you on the inside of the happenings around the program.
Duke takes on Virginia
The Cavaliers want to avoid four straight losses to Duke when the two meet in Charlottesville this Saturday.  Some of Coach David Cutcliffe and companies biggest wins have been against the Cavs but for that to continue, Duke will have to make a lot of adjustments this week, most of them mental.  The Blue Devils defeated Virginia 55-48 in a wildly entertaining game a season ago but to think we'll see a shootout this weekend could disappoint.  Coming into the season these teams looked pretty even on paper, but Mike London has his team playing solid football and wanting to secure a bowl game with a win, while the Blue Devils are thirsting for not only a break but a victory.  The Blue Devils could cure a lot of ills with a 4th win both over the Cavs and on the season but make no mistake, the team will be underdogs in the remainder of their games.  Afterall, the Cavs went down to Miami and punched the Canes in the mouth, while Duke played one of their worst games of the season there.  If momentum has anything to do with the outcome early Saturday evening, then the Blue Devils face a tall order.
Playing for next year?
Sure, Duke could win three games and be bowl eligible but reality tells us that will not happen.  At this point the Blue Devils are starting to play for next season and they need another win this year to help with their confidence going into the off season.  Virginia, Georgia Tech and North Carolina remain on the schedule and there is no one game which looks like a win at this time.  There has been no breakthrough win this season and it is hard to see major improvement with the offense averaging six less points per game to go with three wins.  In short, Duke needs to make their own off season momentum by either continuing a streak over UVA or finding a way to defeat two programs that have dominated them in the past.  Going into the season I stated that anything less than four wins would be a disaster and I still feel that way. The Blue Devils stumbled out of the gate and lost to a bad Richmond team and with that being there third straight loss to an FBS school, it was a killer and should have been the fourth win.  I do realize that Duke has played some teams close but they just don't seem like they know how to win or close games out with them on the line.  Next year will be a tell tale year in many respects for the program and that's why finding some momentum heading into the off season is oh-so important.