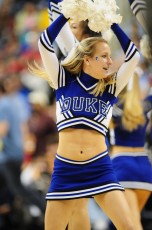 Well it certainly is an exciting time of year for Duke fans with the football team riding a three game winning streak and the basketball team set to kick off practice.  A lot of us in the media joke about taking vitamins this time of year in that the hours can be brutal with both basketball and football kicking it into high gear at the same time.  Then, you have to add recruiting to the picture, for us, anyhow.  So, yes, a test of true endurance is coming up and I can only hope I am rested enough to deal with it.  Of course, there are a lot of worse things to be doing than being court-side for Countdown to Craziness or the sidelines for the Florida State game, so I'll make due.
Basketball is here!
Let's face it, Duke is a Goliath to many for the program is college basketball royalty and breaths the rare air of constant contention for championships.  While most are awaiting Countdown to Craziness, the coverage begins in earnest on Wednesday, when Duke holds their annual media day.  BDN will of course be on the scene to bring you information as it happens in that we are hands on with our unique and faithful coverage.
Countdown to Craziness
Man, can you believe that Countdown to Craziness is this Friday?  It doesn't seem like that long ago when Nolan Smith came off the court in Greensboro, meeting Coach K in mid air for a hug after Duke won yet another ACC Championship.  For those who have never been to the event, it's a religious experience for the fans with rabid Cameron Crazies rocking the house. And you see the freshman in their uniforms for the first time and simply gain our first look at this seasons team.  It's off the charts from a fan perspective with skits, dunk contests and just flat out fun!  It's always interesting to see what songs each player chooses to come out to as the lights are dimmed and spotlights glow.  This years event will be broadcast online at ESPN3 but there is nothing like being there in person!  The festivities start early on outside, so make a day of it by getting there early and immerse yourself in the atmosphere of all things Duke.  For the record, many want to know which recruits will visit.  The answer to that question is Matt Jones and Rasheed Sulaimon.  Most all the juniors Duke is recruiting will have duties with Team USA, thus causing a conflict in scheduling.  Rumors blew up that Tony Parker would be in, but as of today, that is not the case.  But of course, Parker remains a player that Coach K and the Duke Family dearly want in Durham.
And then .....
Support the football team the next day as they take on Florida State, a team that was picked by everybody to win the ACC in the pre season, not to mention being ranked #5 in the country.  This will be one angry group as they are coming off three straight losses including one to Wake Forest last week.  The Deacs took it right at the Seminoles and that is what you have to do, be aggressive and play to win.  Still, I hate facing a team that has gone as far to ban twitter among it's players yesterday, for you can bet we get their best shot.  But this is a young Duke Football team with talent, so if they can match the intensity and play four full quarters of football, they will be in this game.  Our football coverage will continue tomorrow after Coach Cut's press conference.  A reminder, we tweet as he speaks, so tune into to our popular twitter home a little after noon and check out his comments.  Folks, BDN has become the place for recruiting and team information due to the hard work of Patrick Cacchio with some assists from the rest of our staff. Patrick was in Miami to cover the big win over FIU, bringing you video interviews after the contest,  And that is something not even the TV stations to claim.  We are dedicated to covering Duke Football and this site is #Dukegang friendly.
Sean Renfree is the key
Sean Renfree is seeing the field better than at any time of his career in my opinion.  The coaches have turned him loose allowing him to stay in when in the red zone and his confidence has soared during that time.  Renfree is the key to the Blue Devils success, so if he gets protection, he will make Duke a tough out during a brutal stretch of games that remain on the schedule.
I think Seth Curry will blow up this season
The biggest question for Duke Basketball is where will points come from this season.  With Nolan Smith, Kyle Singler and Kyrie Irving long gone, it is up to a lot of Blue Devils to step up to the plate for the opportunity is at hand.  I said in early summer that I thought Curry will make that leap this season and I still feel that way as the season approaches.  Curry is a scorer and he's gone through the Duke system enough to flourish in it this season. I look for Curry to be first team All-ACC at seasons end.
Cheerleader of the week
We like to salute the team behind the team and we're speaking of Duke Cheerleaders and the Blue Devil himself.  Folks have kept asking me to start Cheerleader of the Week back up, a Monday Musings tradition, so we did.

Speaking of social media ...
If you are not following Blue Devil Nation tweets, you should be! We throw out a lot of information about recruiting, the teams and more.  It all started a few years back when we started tweeting from press row in Cameron and that carried into the National Championship game where we sent out real time stats and what was going on that the TV cameras were missing.  Sitting directly behind Coach K gave us a lot of insight even though I did duck when they were in the team huddle for I felt like I was seeing something I shouldn't, LOL. It was a fabulous experience and I loved sharing the moments with Duke fans.  We share some recruiting information on twitter as well, but must save the best of that for out members, who help make BDN happen.  In fact, if you like what we do, the best way to support us is to become a member.  We also have  Facebook open group which is of course called Blue Devil Nation and we welcome you there as well.  It is set up for your participation.
Contests are a hit!
We love when fans take part in our twitter contests which have been a hit since their inception long ago.  Every week of the football season you can predict the score of the Duke Football game and that goes for all men's basketball games as well.  You win a trial membership to our premium section and get your name in twitter lights if you win, so head on over and get your picks in this week.
Cha, cha, cha,cha, cha, changes ...
Okay, that probably ticked off David Bowie in that it was a bit lame.  We spoke of site changes a good while back and they are still coming.  Since that time, BDN has been in talks with others as well about going under their flag.  We have yet to make a decision on what we'll do but I must admit it is hard altering something I've built from scratch as it continues to grow in popularity.  We feel this is a unique site that has brought fans as close to the programs as one can get and we'll not alter that without a lot of thought.  We have a lot of passion for Duke Athletics here and that is one thing you can rest assured will continue.  Thanks to all of you for making this place what it is today by following us.  We hit the road running with our original blog which became an overnight success and we continue to refine and try and make the site better.  We have built tremendous relationships which we cherish greatly for many of them are true and legitimate sources as well as friends.  When BDN says something, it is generally taken as gospel and we are proud that we have always dealt with the facts.  We have been and will continue to be the most hands on Duke site out there, thanks to the great staff we've assembled.
Stay tuned! 
By late Wednesday afternoon, the Nation will go nuts with coverage #DukeStyle.