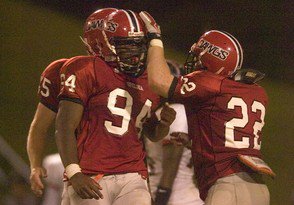 With the addition of veteran Defensive Line Coach Rick Petri this offseason, expectations are high for the Blue Devils' defensive line in 2011 and beyond. Prior to his arrival in Durham, Coach Petri has tutored some of the top units in the country at Miami, Kentucky, Ole Miss, and South Carolina. Throughout his career, Coach Petri has mentored numerous All-SEC and All-ACC defensive linemen, including NFL stars such as Warren Sapp and John Abraham. With a young group of athletic defensive linemen already in Durham, Coach Petri and the Duke coaching staff are looking to bring in potential impact players in the class of 2012. With three talented prospects already verbally committed, Duke is focusing their recruiting efforts on a handful of top recruits, including a big-time run-stopper from Alabama. Torey Agee is a 6'4" 250 pound defensive end from Opelika, AL and the son of former Auburn star Tommie Agee. Since we last spoke with Torey, he's earned scholarship offers from several top schools, including Stanford and Vanderbilt. The star student-athlete was in Durham this past weekend and caught up with BDN to give his thoughts on his visit. [private]
BDN: Which schools have been recruiting you the hardest this spring and summer?
At this point, the schools that have really be in contact with me besides Duke have been Vanderbilt, Georgia Tech, Stanford, Southern Miss, and Auburn.
BDN: Which schools have you had a chance to visit recently?
So far I've only had a chance to visit Georgia Tech and Duke, but I have plans for other visits later on this summer.
BDN: Do you know which schools you are planning to visit, or is that still up in the air?
I know I'm going to Vanderbilt and I'm probably going to go to camps at Auburn and Troy.
BDN: How did your visits to Duke and Georgia Tech go?
Both those schools are great, they have exactly what I'm looking for and that's a strong academic program, so it's right up my alley. Both campuses are beautiful, the football teams are good, the coaches are great, it was just a wonderful trip.
BDN: Since it's fresh in your mind, can you talk a little about your visit to Duke this weekend?
The Duke visit was great. We toured the whole campus and met some of the coaches and some of the players and they told me what it would be like in a typical day if I became a Blue Devil. It was great, you know, I'm still kind of taking it all in.
BDN: Last time we spoke, you were taking your time with the process. Now that you've taken a few visits, do you know how or when you want to start to narrow things down?
No, I'm still pretty much taking my time, like I said,  I don't really want to rush into anything, so I'm just taking it slow this summer, visiting a bunch of places and trying to get my thoughts together before I pick a school to go to.
BDN: Thanks a lot, Torey, and we look forward to hearing from you again soon.
Alright, thank you.
[/private]