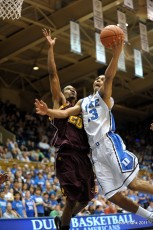 • Game 22 •
[7 AP / 5 Coaches] Duke (18-3, 5-1) vs. Virginia Tech (12-9, 1-5)
Thursday, February 2, 2012 • 7:03 p.m. • ESPN
The Opening Tip
• Duke (18-3, 5-1) faces Virginia Tech (12-9, 1-5) on Thursday, Feb. 2 at Cassell Coliseum in Blacksburg, Va.. Tipoff is set for 7:03 p.m.
• Mike Patrick (play-by-play), Len Elmore (analyst) and Jeannine Edwards (sideline) will call the game for ESPN.
• Duke is ranked No. 7 in the AP Poll and No. 5 in the ESPN/USA Today Coaches Poll. Virginia Tech is unranked in both polls. The Blue Devils are 77-20 all-time when ranked seventh in the AP Poll.
• Duke ranks No. 1 in Strength of Schedule and No. 2 in RPI according to ESPN.com. The Blue Devils are one of four teams (Syracuse, Michigan State & Kansas) in the NCAA to rank in the top 10 of the RPI, Strength of Schedule, AP and Coaches Polls.
• The Blue Devils have won three straight ACC road contests and are 8-2 away from Cameron Indoor Stadium this season.
Duke-Virginia Tech Series
• Duke and Virginia Tech have met 45 times heading into Thursday's game with the first meeting between the two schools coming in 1912.
• The Blue Devils lead the all-time series 37-8, including a 3-2 mark at Cassell Coliseum.
• Duke has won 15 of the last 18 in the series.
• Mike Krzyzewski is 8-3 at Duke against the Hokies. The Blue Devils are 3-2 in Blacksburg under Krzyzewski.
• Duke has won three of the last four games at Cassell Coliseum in the series.
• Six of the last 10 games in the series have been decided by 10 points or less.
• Duke won 10 straight games in the series from 1934-1948. Virginia Tech has won back-to-back games once in the series history.
• Duke has held Virginia Tech to less than 70 points in eight consecutive meetings. The Hokies are averaging 61.4 points per game in that span.
Numbers Game
l Duke has been ranked in the top 10 of the AP Poll for 87 straight weeks, the third-longest streak in NCAA history.
l The Blue Devils are one of nine teams in the NCAA with five or more players averaging 10 or more points per game. Duke has finished the year with five double-figure scorers six times under Mike Krzyzewski.
l Duke is the only school in the ACC with five players averaging over 11.0 points per game in league play. Ryan Kelly (13.7), Andre Dawkins (13.0), Austin Rivers (12.0), Mason Plumlee (11.7) and Seth Curry (11.5) each rank in the top 25 in the ACC in scoring through six league games.
l The Blue Devils rank 11th nationally in scoring at 80.3 points per game, despite facing six opponents that rank in top 50 in scoring defense. Virginia Tech is the seventh team Duke has faced that allows under 62.0 points per game.
l The Blue Devils are two wins shy of their 16th consecutive 20-win season.
l Mason Plumlee was named the USBWA National Player of the Week after averaging 19.0 points, 14.5 rebounds and 3.0 assists per game in wins over Maryland and St. John's.
l Austin Rivers, a five-time ACC Rookie of the Week pick, is averaging a team-high 14.1 points per game. Johnny Dawkins was the last Blue Devil freshman to lead the team in scoring in 1983.
l Mason Plumlee collected his ACC-leading ninth double-double of the season with 15 points and a career-best 17 rebounds in Saturday's win over St. John's. He has collected 12 or more rebounds in a game 13 times this season.
l Andre Dawkins is averaging a team-high 15.2 points per game, while shooting 46.5 percent (20-of-43) from three-point range, over the last five contests.
l Ryan Kelly ranks second in the ACC in three-point percentage among players who have attempted at least 50 threes. He is shooting 47.2 percent (25-of-53) from three-point range on the season, including 51.9 percent (14-of-27) over the last 12 games.
l Mason Plumlee and Miles Plumlee combine to average 15.8 rebounds per game. One of the Plumlees has led the team in rebounds in 19 of 21 games.
l Tyler Thornton leads the ACC in assist-to-turnover ratio (6.7:1) through six conference games. He has 20 assists with just three turnovers in ACC play for the Blue Devils.
l Mason Plumlee has improved his free throw shooting over the last four games, going 20-of-27 (.741) from the line during that span. He was shooting 39.8 percent (37-of-93) from the free throw line prior to that stretch. Plumlee averages 5.7 free throw attempts per game