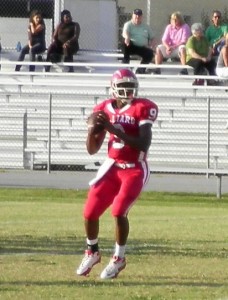 With thirteen verbal commitments received in the class of 2012, Duke has only a few remaining scholarships available and are looking to fill a few outstanding needs. With California LB Deion Williams already committed, Duke still has a spot to add another athletic linebacker with one of their remaining scholarships. Though the staff has long been in aggressive pursuit of in-state star Keilin Rayner, another athlete out of the Jacksonville, FL area has caught their attention. Marcus Allen is a 6'2" 210 pound athlete from Hilliard HS in Hilliard, FL. A star in basketball and track, Marcus played just his first year of football last fall as a junior and his natural ability earned him plenty of playing time for the Flashes on both sides of the ball. Primarily a running back and linebacker, Allen has earned over 20 scholarship offers this spring and summer, and has recently been busy taking unofficial visits across the Southeast. Duke Assistant Defensive Coordinator and Linebackers Coach Jim Collins has produced several All-ACC linebackers during his time in Durham, including recent stars Mike Tauiliili and Vincent Rey (now with the Cincinnati Bengals). As a standout both on the field and in the classroom (he boasts a 4.0 GPA), Allen could become another star student-athlete for Coach Collins and the Blue Devils, if he chooses to join fellow Jacksonville-area natives Dwayne Norman, Erich Schneider, and Thomas Sirk in the Blue Devils' class of 2012. [private]
BDN: Can you start out by describing your strengths as a player?
Well, this is my first year playing high school football, so my strengths are just my natural ability to play the game of football and my quick ability to learn, catch onto things quickly, and just being able to use my athleticism.
BDN: You played all over the field in your first year at Hilliard; is there a position you prefer, or a position that college coaches are recruiting you for?
At running back and at linebacker.
BDN: What are some of the things you have been working on this offseason?
Just working on more agility and fundamentals.
BDN: What are your goals for your senior year?
My first goal is to have a winning season, I think we've made a lot of progress over the spring and the summer. That's the main goal to have a winning season and make it to the playoffs.
BDN: What are the most important factors you're looking for in a college?
I'm looking for the best combination of academics and athletics. Just a place that fits me, a program to help me become a better person for my future, teach me how to do finances and stuff like that.
BDN: You mentioned academics as important to you; is there a particular field you are interested in studying?
I'm still undecided.
BDN: What schools would you say have been recruiting you the hardest?
I'd say Tennessee, Duke, Vanderbilt…Kentucky…Arkansas, Boston College.
BDN: Sounds like a good mix of ACC and SEC programs; is there a school or conference that you've grown up following?
Not really.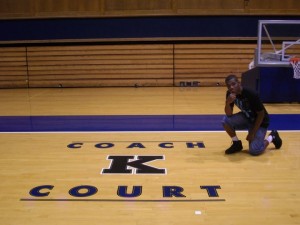 BDN: Which schools have you had a chance to visit so far?
Well I've been able to visit Florida, Duke, Kentucky, Louisville, Vanderbilt, Tennessee, Georgia Tech, Clemson, and I think that's it.
BDN: Did any of those schools seem to have the combination of academics and athletics that you're looking for?
They're all pretty similar, they all have a lot of great things to offer, I didn't have any stand out just from my visits.
BDN: Do you have an idea for how or when you want to narrow things down and make your decision?
I'm trying to narrow things down some, but I still want to take my official visits, and make sure I have all the information I need to make my final decision.
BDN: Is there anything else that you think is important for college football fans to know about you?
I'm just a guy from a small town that's trying to make a big impact. For the kids that come from small towns, just show that anybody can make it in college football if you work at it enough.
BDN: Thanks a lot, Marcus, and best of luck to you.
Alright, you too.
[/private]