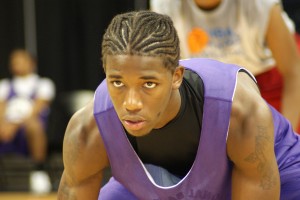 Kenny Boynton scored 26 second half points leading Team Breakdown to an 85-73 win during the opening day of the Reebok tournament in Las Vegas.
Boynton erupted after struggling with his shot in the first half where his team once trailed by 13 points.  Several of the nation's top coaches were on hand to see his performance.
Teammate Brandon Knight added 22 points and the two outdueled Abdul Gaddy (26 points) and Avery Bradley (18 points).  Team Breakdown faces D-One Sports today in a much anticipated match up with John Wall.
Wall led his team to a 87-80 win over Worldwide Orange, scoring 30 points in the victory. Here is TSN on the Breakdown game.