[private]Cliff Harris ran for 95 yards on 17 carries in Duke's 31-7 win over Northwestern. He stated that some of his play was dedicated to injured teammate Re'quan Boyette before talking about conditioning and the fan support.
What was the first thing you did after the win over James Madison?
The first thing I did was ... I ran to the fans and I thanked them for their support because it's been awhile since we've had that kind of fan base at the game. I really enjoyed playing in front of that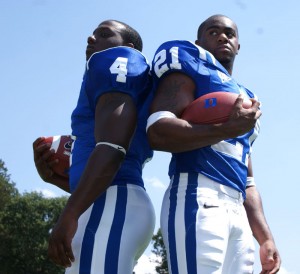 many people, this being my first game as a senior. And I really hope they come out and support us against against Northwestern. I will always thank the fans after every game because I really do appreciate the support.
Can you describe the feeling you had after last seasons victory over Northwestern and then the one over JMU?
Basically, iI was just as happy then as I am now. It's the same feeling. This (JMU) is a fresh start for us, but the win is behind us and focus on Northwestern. They remember what happened last year too, so they will bring their best game.
It seemed as if the team was fresher than normal in the second half ...
Our conditioning level is the best it's been in the four years I've been here. I mean, the whole team felt fresher during the third and fourth quarter. In the locker room (halftime) you could tell because nobody started cramping or anything like that.
Now that the team has tasted an opening victory, is there an anxiousness to get to the next game?
Yeah, I mean, once you win the first game you realize just how good it feels and you want to work harder and enjoy that feeling again on Saturday.
[/private]