[private]Opening statement -
We had four quarters of unbelievably good effort and play.  For the second week in a row, they've maintained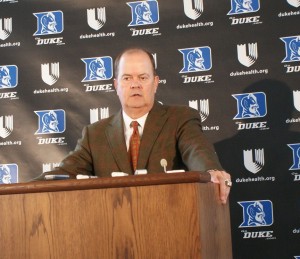 that kind of intensity.  That's growth in eight quarters since the Miami game.  Unfortunately when  you have four turnovers and they have one and you set them up for touchdown drives of 22, 33 and 46 yards after turnovers and that's 22 points.  We gave up basically 5 points on a blocked punt for a safety and the ensuing kickoff was fumbled.  Then there was the onside kick that set them up on our own 26 with the penalty and they got points out of that.  We gave them a short field to play with.  Wake Forest is a very opportunistic team.  We played good enough in all areas to have won and will have to get back to practice in an effort to eliminate the errors.
After a tough loss where your team was resilient yet came up short, what do you tell your team as a coach to keep them up? (Mark Watson, BDN)
Well, I just talk to them straight forward about what happened and how it occurred.   We are in between meetings and getting ready to go out on the field and we don't have time to feel sorry for ourselves.  It's as simple as this, football games aren't won in the video room in Sunday.  We're going to correct these mistake and move forward.  When you play as hard as we played you just have to move on.  We have a difficult opponent, a rival opponent in North Carolina State coming off and open week.  They're well coached and have a good football team and we better not be spending any time not getting back up, so we're going to challenge them pretty good.
On the onside kick - (Lucie Chavez, News and Observer)
It's a judgment call.  I felt like the guy was laid out and he would have never  have gotten the ball.  He hit Johnny Williams after he had gotten the ball, but the official has to go out and use his judgement and it's a tough call.  Again, my philosophy on all those things is it could have gone another way.  We could have done ten or fifteen things another way and we would have won the game.  We evaluate it and move on.  I will probably be getting an explanation, but you have to move on. 
Was the reaction similar to that of the Northwestern game?
Yes, it was very similar.  We thought we could win and we competed hard.  We did everything we had to do to win against Northwestern - a return for a touchdown but it was called back.  It was that kind of experience and we are just hoping all of those things help us grow.  We're not just trying to have a good team, that's what everybody needs to understand.  We're going to build a football program here.  We're serious about that.  Thes guys this year?  They are laying the groundwork.  People are missing out if they don't come see htis team play, they're competing.  I certainly hope with a big rival game like N.C. State coming in that we feel this stadium up good.
Duke hasn't played N.C. State since 2003.  Do you feel like you should be able to play a rival every year and what do you think of the divisions the way they are set up now.  Would you rather see them more regional?
I'd love to see N.C. State in there but I'm brand new.  I'm sure if you looked at the economics of the conference, if you let us all be in the same division right here, we'd be playing each other every year and that would be some pretty good road trips for everybody and probably wouldn't be fair to the rest of the conference from Miami to D.C.  There was a lot of thought that went into it and I wasn't privy during those thoughts or meetings but you would love to play that game, not that I want to play N.C. State in particular.  You just love those rival games.  It is what it is and the league is getting better and it is working well as it is, I guess.[/private]