[private]Raphael Chestnut -
On the tough and or close losses -
We all knew it was going to be hard for us.  This is what it is, the Atlantic Coast Conference -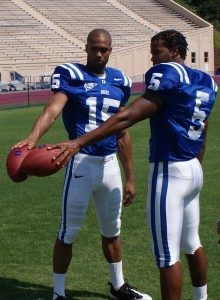 Division I football.  Of course we are upset that we've lost a couple of close games, but we are real upbeat.  We have to go out and execute and we have a chance to win some of the next few games.
Do you feel as if the team came slow out of the gate against NCSU?
I believe they they did come in with a lot of intensity.  They were coming off a bye week and we were coming in off a tough loss.  As a team we should have matched that intensity because we still have to prove we can contend in the ACC.  I feel like we did match their intensity, but that we just didn't execute as well.
This is your second trip to Clemson.  Do you like playing in hostile environments?
It's wonderful.  It gets you excited and ready to play.  You're either ready to play or you're scared to play - no in betweens.  I expect our team to go down there and play our best.
Were you able to see the errors on film?
Yes.  We saw it all clearly.[/private]