[private]If you are still looking for a Christmas or Holiday gift, you might want to consider Lewis Bowling's latest book which would make any Duke fan happy.  Lewis took the time to talk with the Blue Devil Nation and we got the skinny in what went into The Pictorial History of Duke Basketball -
Can you describe your new book for readers of the Blue Devil Nation and or Duke fans?
This book contains more than 200 pictures of Duke basketball, dating back to the first Duke team of 1905-06 and up to the present day.   Each picture is accompanied by a caption describing some aspect of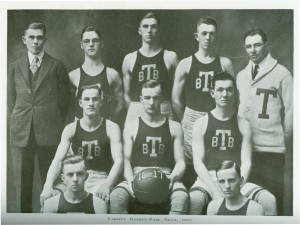 history related to Blue Devil basketball.   Also included in the book are forewords written by Bob Harris and Bucky Waters.  Of course, Duke basketball fans know these men well, as Mr. Harris is the longtime "Voice of the Blue Devils," and Bucky Waters is a former Duke head coach.   Mr. Harris' voice is synonymous with Duke basketball and football being "on the air," and he is as much a part of the great tradition of Duke basketball as anyone.  Coach Waters was an assistant coach on the great Final Four teams under Vic Bubas at Duke in the early 1960's, and then became head coach of Duke in 1969 and now covers college basketball on television.
So, it's more than the Coach K era alone?
Probably quite a few Duke basketball fans equate Blue Devil success as belonging to Coach K alone.  Without a doubt, Duke basketball under Coach K has reached heights never attained by previous Duke teams, and this book contains many pictures from 1980 to the present day, the years of Coach Krzyzewski's tenure in Durham.   But this book also has pictures and information on the "Father of Duke Basketball," Wilbur "Cap" Card, and his 1911-12 team which won 6 and lost 1.  The very first Duke team of 1905-06 is shown, led by the first captain in Duke basketball history, Thad Stem.   There are several pictures of Eddie Cameron and his teams of the 1930's and early 1940's.   Harold Bradley, Gerry Gerard, Vic Bubas, Bucky Waters, and Bill Foster also had successful eras while coaching at Duke, and many pictures detail this.  Some present day Duke fans will be surprised to know that Duke has been playing in NCAA Tournaments since the 1950's and participating in Final Fours since the 1960's.
There also is an entire chapter devoted to Duke's four home basketball stadiums, from The Ark and Alumni Memorial Gym to Card Gym and Cameron Indoor, with interior and exterior pictures.   The book includes several pictures of Cameron Indoor Stadium being constructed in 1939, and pictures of the very first game in Cameron against Princeton in 1940.
Is the book's coverage exclusive to the men's program?
The Duke women also are an important part of Duke basketball history, and the book has a chapter devoted to them.  Debbie Leonard had some very good teams at Duke and, of course, Gail Goestenkors developed the Blue Devil women into a national power.  Joanne P. McCallie came to Duke in 2007 and now is building on the foundation that Coach G built.
Can you describe the research that went into the book?
The majority of the pictures came from the Duke University Archives.  Of course, all the pictures are described in words, so background material such as dates and statistics had to be referenced also.   I must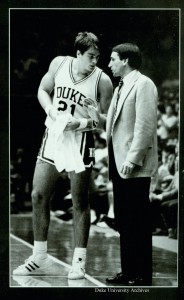 say, John Roth's book, The Encyclopedia of Duke Basketball, was a good reference for me.   Every Duke basketball fan should have this book in my opinion.
The Duke Sports Information Department was also a big help, supplying me with photos and other information.  Duke Photography was a very good source for me too.   Many individuals gave me pictures, such as Add Penfield, the radio voice of Duke sports from the 1950's into the early 1970's.  GoDuke.com and especially its database of basketball history was very helpful.
Of course, Bob Harris and Bucky Waters, who wrote forewords, were both very accommodating.  Through several meetings with them, I borrowed from their years of experience with Duke basketball.
On a personal note, much credit goes to my wife, Beth Harward Bowling.  Beth helped me throughout the book, and has been a fan of Duke basketball all her life.  Beth's parents have season tickets, so Beth and I go to several games a year.  Let's just say that Beth is such a fan that on the rare occasions Duke loses, my dear wife is one very sad girl for a couple of days.
Is there one picture that serves as a personal favorite in the book?
I don't think I can say I have one favorite picture.   Many readers might assume that the picture on the cover of a book is the author's favorite, but not necessarily so.  In many cases, the publisher of the book has the final say.  So even though I really like the cover of my book, it was not my absolute first choice.   I would say that a picture on page 40 of the book is one I like very much.   It is an exterior view of Cameron Indoor Stadium in the 1940's with some cars parked outside.   There is also a picture on page 44 of Duke's very first basketball coach Cap Card, for whom Card Gym is named.   In this particular picture, Coach Card is lifting weights using a dumbbell, and is flexing his triceps muscle quite a bit!   Another favorite of mine is on page 67, it is of Lefty Driesell when he played for Duke in the early 1950's.   Of course, Lefty went on to become a great basketball coach.   I also like the picture on pages 56 and 57 of Duke celebrating its national championship victory over Kansas in 1991.  So, as you can see, it is hard to pick just one picture as my favorite.  By the way, the picture of the 1997-98 womens team on page 133 with the Duke Chapel in the background is another.   But with around 225 pictures to choose from, you can see why it is hard to choose just one.
You have written a book on Wallace Wade as well.  Tell us about that and if you have any other projects in the works.
Yes, I have written a biography of Wallace Wade, who established Duke as a national football power in the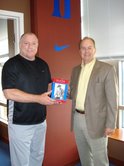 1930's and 1940's.  This book was published last year and is available in local bookstores,  at cap-press.com or amazon.com, or by calling 1-800-489-7486.
With the resurgence of Duke football under Coach Cutcliffe, there is increased interest in that sport on campus at Duke.  I signed quite a few books during this year's NC State at Duke game.  If anyone is interested in having me talk about and sign either of these books, I can be reached at lewis_bowling@yahoo.com
Where can both books be purchased?
Duke Basketball – A Pictorial History can be purchased at local bookstores and Amazon.com.  The book can also be purchased at The History Press.[/private]