The Duke offense erupted in the second half and that helped the Duke Blue Devils move to 17-1 overall and 3-0 in the ACC with a 73-56 win over N.C. State.
To call this game a tale of two halfs for the Dukies is an understatement.  Duke shot 29% from the
field in the first half and 76.9% in the second.  The Blue Devils managed to score just 22 points at the break, but came on to roll up 51 in the second half.

"Our offense, as bad as it was in the first half, it was that good in the second half. I thought they played us really hard. I was worried about today's game for a couple reasons – one, I think State's good. After that big win against Georgetown, there's a little bit of a let-down emotionally, crowd-wise and team-wise," said Krzyzewski.
Duke jumped out to an early 8-1 lead, but then went ice cold from the field as if they were sleep walking after Saturday's big win over Georgetown.  Duke trailed the Wolfpack the rest of the way, until the 9:27 mark, when back to back Nolan Smith three pointers gave them a 52-49 lead.
N.C. State rode the scoring punch of Ben McCauley and Brandon Costner who scored 15 points each, but they were shut out down the stretch when the vaunted Duke defense kicked in.  The Pack scored a single point in the last 4:41 of the game.
Duke finally broke the game open when David McClure made a steal and hit Gerald Henderson for a dunk and a 62-55 lead.
"There's game pressure – I thought the second half, the start of the second half, we had great energy. Gerald, especially in the first eight minutes, was great . Nolan – I thought this was his best game, and he's put three really terrific games together. And Kyle playing with four fouls for eight minutes. It was a one-possession game, and all of sudden we got two steals and turned them into buckets. McClure was huge for us, especially on that top ball screen. It was a hard-fought win for us, but with the score you'd think we kind of walked throgh this," stated Krzyzewski.
Henderson left no doubt that he was the player of the game, continuing his torrid play of late.  He put his team on his back on the way to scoring 21 points to go with 7 rebounds, 4 assists and 5 key steals.  The junior continues to play at a very high level and that has been a Godsend in that some other Devils have been in a slump.
"I knew I was going to have to be way more aggressive than I was.  Kyle wasn't playing like he usually does.  Jon wasn't hitting like he usually does.  So I guess I kind of took it on my shoulders.  My teammates were going to me, Coach was going to me, and I knew that if he was going to call some plays for me I had to make something happen," said Henderson.
N.C. State Coach Sydney Lowe said, "He (Gerald Henderson) took over the game for a period there and that's the one guy I talked about in pre-game to the media. He can change the game and he did it again tonight. That's what he expects of himself and I'm sure that's what his team expected. He did exactly what a leader is supposed to do. He took over."
Jon Scheyer had a miserable night scoring a late three pointer, but led his team with 5 assists.  Scheyer has now had four sub par scoring games.
Brian Zoubek and Lance Thomas also continued to struggle on the offensive end of the court, but there were several shots in which the seven footer altered the shot.  But Zoubs will have to learn to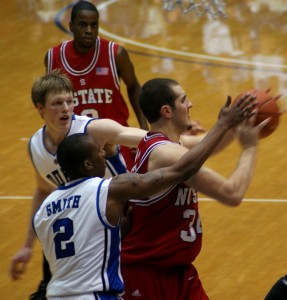 finish his shot with more authority to get back on track and Thomas needs to find his way back into being a key contributor down the stretch is Duke is to continue their winning ways come the meat of a tough ACC schedule.
Kyle Singler was saddled with four fouls and that made it hard for him to be aggressive on the boards in that he had just 4 rebounds tonight.  But Singler is Duke's best interior defender and his 17 points cam at key moments in the second half enabling a late Duke run.
The aforementioned three pointers from Nolan Smith were big and he finished with 13 points but failed to dish a single assist.  Paulus had one assist and nine key points off the bench, but Kryzyzewski would most certainly like to see more distribution from the point guard position, although he called this Nolans best game this season.
Despite some struggles, any ACC win is huge in a tough conference.   Duke got things rolling late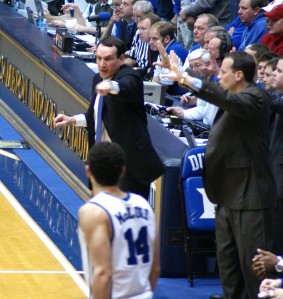 and escaped what would have been a trp for most teams.  It was an evening when the weather caused some no shows and Cameron was nowhere near it's best.
It was clear that Coach K and his staff came out in the second half and got a bit more animated than usual.  On a night with so many odd intangibles, there is no way to measure how important that support was.