The offensive woes of late - While Duke has struggled in conference games offensively, averaging 70.6 ppg, they still remain third in the conference overall at 78.2.  During yesterday's press conference, Krzyzewski openly joked about his offense in the last couple of games before taking on a serious tone saying, "We're still trying to find our identity offensively.  But we are trying to find ways of incorporate more people, not just the three point shot.  We need to put ourselves in a position to get fouled a little bit more and get it into the post.  Not just the post for big men, but Gerald.  We're still very much developing there.  The offense has got to get better."  Duke is clearly waiting for the offense to come into its own but with eight regular season games left it has become a concern.  "Our offense takes on the identity of our key players," said Krzyzewski who will adjust his offense to roster personnel.
The defense is solid -"Our defense and rebounding is up a notch or two  from last year and that's why we've won," said Krzyzewski.  The Blue Devils are letting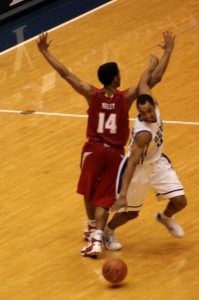 up just 61.0 ppg, but they will be tested like no other game versus UNC who averages 92.3 ppg. 
Rebounding is solid - Duke is third in the conference in rebounding despite their lack of depth inside.  The team has bought into how important this is.  UNC will surely try to dominate the glass in Cameron and it'll take one of Dukes better efforts to offset this.
Dave McClure -A huge plus of late has been the outstanding play of Dave McClure who is showing senior leadership.  "David has always been a solid player in our program and a part time starter.  What he's done this year is be an outstanding defender and the ultimate role player.  He's done a lot of little things that end up being big things.  In the game Saturday, he's probably good for gaining 18 possessions for us - thirteen on rebounds and five  keeping the ball alive.  That's a lot of points and there is no stats for that," said Krzyzewski of his play.  He went on to say his role was similar to what Dennis Rodman use to do for the Bulls which is high praise. 
Greg Paulus will start- Kryzewski announced that Greg Paulus would start on Wednesday.  "Greg didn't so much re-earn his spot, he will start obviously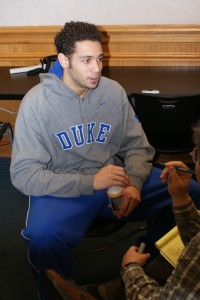 against, or maybe not so obviously against Carolina.  Greg played a great game on Saturday.  He did that while we as a group were going through a very adverse time.  When somebody steps up when we are going through adversity, that's the best.  He played a great game, he was all over the place," said Krzyzewski.  He went on to say that Paulus has dealt with a lot of frustration not being able to prepare in the off season for his senior year due to injury.
Nolan Smith is okay and ready as well -"This is a good thing for Nolan.  Nolan is a much developing player.  He's played really good basketball for us.  All of a sudden you are in intense conference play and we are not functioning well offensively puts even more pressure on him," said Krzyzewski.  Expect to see both Smith and Paulus play together some versus UNC and Smith is still considered to be a starter.  Smith later stated that he was okay with the decision, but it was clear it may have motivated him a bit to for now, lose his spot at the "1" position.
Gerald Henderson- "For over a month now, he's been pretty good," said Krzyzewski, calling him their most established player offensively.  Henderson keyed a second half run versus Miami but had only two points in the first half.  "In the first half, he was more of a shooter and in the second half he attacked.  He has to remember that's who he is." said Coach.
Kyle Singler -"Physically, he's okay.  He's just playing like a warrior.  Maybe he needs to be a little bit more precise on his technique when shooting.  He's missed some lay ups that have been in and out.  He just needs to keep doing it.  We need f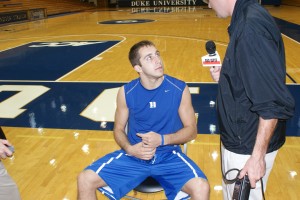 or him to stay aggressive, but physically he's okay," said Krzyzewski.  Singler had been sick but is better now.  In short Duke wants him to shoot through his many drought.
How to slow the UNC offense- Krzyzewski said it would be a huge challenge and that it would take a team effort to slow them down.  He also made reference to how important bench play would be in this game.  "To win big games you try to play well for forty minutes and that's what we are going to try to do and they are going to try an not let us play well," stated Krzyzewski.
Interesting K quote- "None of my players are where I want them to be because I always want them to be better."
Closing K quote - "You know, we get a chance to play a game of this level.  Not many programs in the United States would ever play this level of game and we get to play it twice.  Historically, this game has helped both programs win or lose because you've been tested.  I think that's the most important ... over the years Duke and Carolina have made each other better.  It's a good game to be at and a heck of a game to be in."  He went on to say that the most relevant thing in this game is that both teams were 7-2 in the conference and atop the conference coming into the game.