The Blue Devil Nation will preview all twelve Atlantic Coast Conference teams in the coming months.  Here is the first of those previews -
2008-09 record - 10-4 (ACC Champions, 20-7 Orange Bowl victory over Cincinnati)

Returning starters - Offense 9, Defense 7  Letterman returning 40, lost 16
Head Coach - Frank Beamer 177-89-2, bowl record 7-9
BDN's early predicted order of finish - 1st in the Coastal Division, projected record 9-3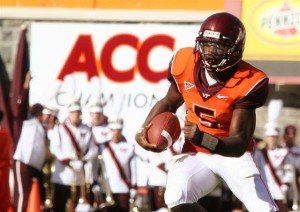 When one starts to preview the 2009 ACC Football season it becomes clear that once again the league will feature a lot of balance.  But if you are looking for a front runner, look no further than Virginia Tech.  The Hokies are coming off a 10-4 campaign which includes an Orange Bowl win over Cincinnati.  Some in Blacksburg might consider that record a disappointment, but how much can they complain with another ACC Championship.
There were three main reasons why the Hokies dropped four games in 2009, the first being breaking in inexperienced players at key positions, the second was a lethargic offense and the third was the special teams sudden inability to come up with points.   Virginia Tech head coach was breaking several new players at key positions and that early season inexperience allowed a fired up East Carolina team to win a close battle in the opener.
I wouldn't necessarily look for that to change in 2009 in that the opening day opponent is Alabama in Atlanta, Georgia.  However, the Hokies can pull out a win if their offense shows off season improvement.  Yes, one of the other weaknesses I alluded to was last seasons offensive production.  How many times did the Hokies score 30 points or more?  The answer is twice against Nebraska on the road and Boston College in the ACC Championship Game.
The bottom line is any time the Hokies offense clicks they tend to win just as they did in the two aforementioned contests.  Beamer will work with nine returning starters this season including  junior quarterback Tyrod Taylor (923 passing yards, 53.7%, 425 rushing yards) who will have some familiar cohorts to team with.  One of those teammates is running back Darren Evans a sophomore who emerged as the starting back in his freshman season.  Evans ran for a school record 253 yards against Maryland and seems primed to become a premiere back in the ACC.
The offense will be balanced by solid senior tight end Greg Boone who had over 500 yards in caches at around 13 yards per catch.  Then there is Jarret Boykin who averaged 14.7 ypc as a true freshman.  In fact, all of the Hokie receivers were green last season and should benefit from last seasons inexperience.
For those players to flourish, the offensive line has to close some gaps which allowed for 54 sacks in 07 but showed improvement last season.  Several key starters return which should help Beamer have a more productive offense.
The defense returns seven starters and is always formidable and this year will be no different.  The defensive line is anchored by Jason Worilds and John Graves and continues to be a strength.
The linebackers are led by two of the leagues best in Cam Martin and Cody Grimm. It's worth noting that this unit has more experience this season after breaking in several young players in 08.  The Hokies will look to build experience in the pre season and see which players step up.  With a solid defensive front and secondary, more consistent play from the linebackers would make this already solid defense even tougher.
Dorian Porch  is probably the best of the bunch in the secondary, but this is the are where a lot of off season work took place due to the loss of Victor "Macho" Harris to the NFL.  Still, with seven of your top eight back, look for this unit to be one of the ACC's best.
Matt Waldron returns as the kicker, but the Hokies will be breaking in a new punter on special teams.  An off season emphasis was to get their special teams coverage to score more points after struggling to do so in 08.
Final words - Virginia Tech was the first ACC team to win a BCS bowl game since 1999.   The offensive line must come together for the offense to use several weapons in 09.   The defense looks to be one of if not the ACC's best.  The Hokies play in the very competitive Coastal division which includes Georgia Tech, Miami, and North Carolina, all teams capable of going to the ACC Championship game.  BDN's early pick is that the Hokies will go 9-3 and win their division.  Despite being ranked as high as 5th in the country in one pre season publication, the fact that many of their victories were close last season prevents us from picking them to rumble through the conference.  The Hokies get Miami, Boston College, North Carolina and N.C. State at home and Duke, Georgia Tech, Maryland and Virginia on the road.  Should the Hokies defeat Alabama in the opener, a banner season could be in store.   It's worth noting that game will be played on artificial turf and is the only game the Hokies are off grass all season long.
Virginia Tech visits Durham and Wallace Wade Stadium on October 3rd.  For season or individual tickets contact GoDuke.com