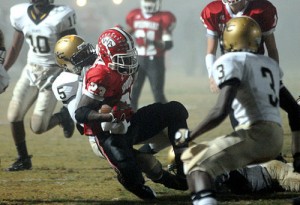 The Duke Blue Devils continued their successful recruiting in the David Cutcliffe era, when they received their seventh verbal commitment from the class of 2010.
Juwon Thompson, a 5-foot-11, 210 pound running back out of Woodward Academy pulled the trigger after his second visit to Duke University.

It's not unusual that Thompson pointed to the comfort level he had with the Duke Coaching staff, for this has been a recurring theme when recruits are asked of the reasoning behind their choice.
Thompson picked Duke over Boston College and Ole Miss over the weekend, but he had interest from Georgia, Georgia Tech and Tennessee as well.
The word on Thompson is that he is ideally suited for the offensive system Duke employs in that he is a hard running back that is very dangerous as a pass catcher out of the backfield.  Thompson rushed for 1,212 yards and found the end zone 15 (TD's) times as a junior.
He carries a 3.2 GPA in core courses and also runs track for his high school team.