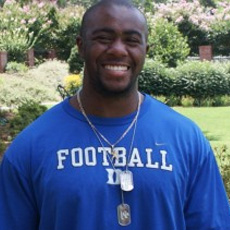 The Blue Devil Nation caught up with Duke senior running back, Re'quan Boyette during the teams recent visit to the Durham Rescue Mission.  We hope you enjoy the interview -
This is Mark Watson with Blue Devil Nation here with Re'quan Boyette.  You're back in the saddle again!
Yes sir, yes sir.  It feels good, it feels good to be back with my teammates on the field and being able to lead them on and off the field.
Was it tough sitting out last season?
Yes sir, it was but I tried to stay positive throughout the whole thing and just try to keep a level head and lead off the field since I wasn't on the field.  I tried to do everything I could off the field to be a part of the team.  I was still a part of the team and just wanted to feel like I was contributing to the wins and success.
What do feel like you bring to the table as a senior leader this year?
I feel like I'm a leader and that the guys look up to me and to me for leadership and encouragement whether it's on the offense or defense.  I feel like I bring a lot of experience to the backfield where we are kind of young and inexperienced.  So, I feel like I bring a lot of experience that can help the guys now and later in their careers.
The offensive line has to rebuild this season.  How are they looking to you?
They're looking great.  During the spring they made progress.  That was the main thing, we just wanted to go in day by day and make progress.  Everyone is looking good, they moved Brandon Harper over to the offensive line and he's doing well and I really like him as a guard.  As long as we work hard every day and get better as a team, it'll be fine.
You have Richmond coming into Wallace Wade in just over six weeks.  You were at Duke when they lost 13-0 under Roof.
Yes sir, I was there.  It was my sophomore year and we were shut out at home.  It still sits in our minds but we are a different team now than we were back then.  There have been a lot of changes throughout the program and we are simply a different team.
Having gone through that,  have you been able to tell the guys, these guys are tough, won the national championship and return a solid nucleus ...
Yes sir, they [team] already know they won the national championship last year and we are not looking past them just as they are not looking past us.  We are all ready for September 5th and we know it's going to be a hard fought game.
Can you describe yourself as a football player in your own words?
(laughs) Uh, I'm a leader first and foremost.  As far as skill sets, I feel I bring a combination and speed and power with my game.  I'm a good receiver out of the backfield for Thad and able to pick up blitzes and able to read defenses.  I feel like I have patience and explosiveness.  That's what you need, a lot of patience as a running back.
What has it been like since Coach Cutcliffe and his staff have been at Duke?
Oh, it's been great.  They came in and changed a lot of things.  Helped us with our bodies and get ourselves together.  They helped us get our confidence back and we are in better condition and were able to see those changes last year.  This year we just want to build on what we created last year and just get better.
If you had a message for the Blue Devil Nation [fans] about the coming season, what would you say to them?
I would just tell them that we are looking to build on last year.  We are not setting any goal on wins, but we want to be better than last year.  As long as we continue to get better we'll be okay and it will be satisfying.   Come out and see us in the opener against Richmond.