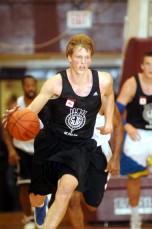 During the recent LeBron James Skills Academy, Kyle Singler, the 6'7" Oregonian small forward for Duke University, worked for four days with some of the top college players in the nation and received instruction from both current and former college and NBA coaches. On the third day, Kyle was kind enough to sit down with Blue Devil Nation and answer BDN's premium subscribers' questions.  He addressed the upcoming season, the potential of the incoming freshmen, his legacy, his thoughts on testing the NBA waters, and the transition to the perimeter, among other topics.
I'm just going to start with some of the posters' questions for you and then I'll try to sprinkle in a few of my own. What was your favorite game you've played so far at Duke?
I would say when we won the ACC Tournament last year against Florida State. It was kind of our first ACC Championship…so that was probably my favorite game.
At what time during the recruiting process did you know that Duke was going to be the place for you?
Well, I mean I grew up wanting to go to Duke. So, when I took my visit, I enjoyed the players and I liked the place a lot.
What kind of work have you done in the off-season in order to prepare for the switch to the perimeter?
I'm working a lot on my ball handling and then trying to improve my speed too.
Can you talk a little bit about the switch to the perimeter? Actually, two of the guys were wondering if you were going to be utilized like Hedo Turkoglu?
Coach actually gives us tapes of players that we can study and look at and I have been.
Who are some of the players that you've been looking at?
Turkoglu, the guy from Indiana…oh, man, I'm sorry
Danny Granger?
Yeah, Granger and then Dunleavy. Those are the players that I've been watching.
It looks like you're a bit leaner too. They list you here at 222, but I thought that last year you played at roughly 235.
Yeah, I was 235, but, since I'm going to be playing on the perimeter more this year, I can't really weigh as much as I weighed last season.
How do you think you've grown mentally and physically since you were at the Nike Camp that was held over in Indianapolis during your senior year?
Just being under Coach K…I think he's taught me a lot. And also just being in college…because you learn a lot.
Yeah, it's amazing to see the transformation of the bodies over a relatively short period of time. If you just take even a quick glance at the difference between the scrimmages of the potential college all-Americans and the high school kids here, it's eye-opening.
Yeah, when you're running and you're growing, especially in college… Your body transforms, when you start to get on a college weight program. In high school, you don't really know what your body is capable of.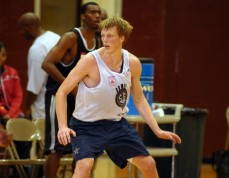 Two NBA questions…Can you give the pros and cons of testing the waters next year for you versus playing for four years?
My mindset is just kind of let's see what happens. If I'm having a great year and I have the opportunity to go, I'll definitely think about it, but, you know, I can definitely see myself coming back to college and continue playing. Because I don't want to make the jump and then not play, you know.
Well, that touches on the other one that someone was wondering about. He said that last year, in another interview, you had mentioned that you didn't want to be just drafted on potential, but rather that you wanted to make an immediate impact.
Yeah.
Is that still the case?
Yeah, it is and…
What are some of the other things?
Yeah, well, I don't want to be the guy that gets drafted on potential..
And be out of the league in three years.
Yeah, exactly, because I definitely want to play as long as I can. When I am at the highest level, I want to play as long as possible.
What position do you think you'll be at the next level, a pure three or …?
I think a three, but it kind of depends on how hard I work on my body. I could be a two.
At your height, that'd be interesting.
Yeah, I want to be a two… once I'm done working on my body.
How's your defense right now, after switching back to the perimeter? Is it coming along?
It needs a little work. I'm not going to lie. That's what I've been working on…mostly my foot speed and, like, my lateral movement.
Who's the toughest guy you've ever had to guard?
Here?
Oh, no, here or anywhere?
Wow. That's a tough one. I've guarded a lot of different players. Different players bring different things to the game so…it's tough
Do you have one guy or even two or three players that stand out?
I can't really say. That's tough, off of the top of my head.
No problem. Okay, this a good question. A few guys were wondering about the freshmen. You must've seen them. How would you assess them and what do you think they'll bring to the program?
Sure, well, Ryan…Ryan Kelly is a very skilled player. He's kind of a four man that can step out and he can also get you the ball.
Is he, at all, like you in terms of what your skills were like at his age?
Sure, a little bit, but he's a little taller and maybe more of a four…and then Mason…he's going to bring a lot of athleticism and size to our frontccourt.
Talk about taking on more of a leadership role this season and where you fit in. Are you anticipating taking on a leadership role this season?
Well, I would say so. I'm now one of the older guys. A lot of the leadership will be placed on Jon and I and a little bit on Nolan, to an extent, because he's going to be running the point. You know, I think we can be good leaders because we can bring different skills and things to the court.
Did you give any advice to E.J., when he was going through the process?
A little bit…
Were any of your relatives upset with him becoming a Duck? I remember a lot of them were Oregon St. guys.
No, not really because, on my mom's side, a lot of them went there.
Yeah, I remember your whole family was unbelievably athletic and mine was so pathetic by comparison.
(laughs) No, no, I kind of gave him some advice, but I also kind of wanted him to go through some it himself…because that's part of going through it.
But he must've asked you for some advice too?
Yeah, he definitely did. I just wanted to give him some advice as an insider. You know, as a person who's gone through it, what he can expect… and just him being a younger brother and me being the older brother…he wanted to know what to expect. So, I tried to help him out.
Which coach or player are you most close to?
Well, actually I'm close to all three of them, well, actually all four of them
What about players?
Well, Jon and I are close, but I was also got close with G last season.
They lived together as I remember.
Yeah, and Nolan and I came in together in the same class too so...
Can you reminisce about your time of coming to the Nike All-American camp a few years ago?
Yeah, I remember the first time I came that there were a lot of kids and I didn't know a whole lot of people…compared to the second time I came because I hadn't played with or against a lot the kids and they didn't know who I was so it was really kind of new to me?
Were you nervous at all? That'd be totally understandable. Do you recall what your emotions were like?
Yeah, I was pretty excited…just because you don't know what to expect.
Let's talk about your legacy at Duke. Is that an important thing to you?
Yeah, it definitely is. I definitely want to leave my mark. I win a championship or championships. That's kind of how you have to leave your mark just because of all the great players that have come through there, you know..
Yeah, it never ceases to amaze me when you look up at the rafters.
Yeah, so you've got to win and..
What got me thinking about today was when you said you grew up a fan. So I figured that your legacy would mean even more to you than it might to some of the other players.
Yeah, yeah, it definitely is very important to me.
What about your personal goal for the upcoming season? How about being an ACC Player of the Year potentially?
Sure, well, I mean I haven't even made All-ACC first-team yet so..
Robbing you.
(laughs)Yeah, well, I mean that's definitely a goal and I think I have the ability to do that. We'll see how it goes.
Have you declared your major and, if so, which one?
Yeah, I have. It's Visual Arts.
We hit on this one a little earlier, but someone wanted to know about your body changes and how you were adjusting to it?
Yeah, sure, well I don't want to be as heavy or slow as I felt I was last season. You know, after switching from playing a lot inside to now moving to the perimeter. I feel like I'm a step faster and, you know…
Sure, sure, this guy is always rushing me. What was your best road experience so far?
Probably North Carolina, during my first year, was my best experience.
Just out of curiosity, as a New Yorker, was playing in the Garden a big deal for you or not really?
Well, I had played there before I enrolled in college so I kind of knew what to expect. It's a fun place to play, but you kind of don't get the college feel or experience there.
We touched on this a little earlier, before being interrupted, but how are the freshmen coming along?
I think they're coming. I mean they're still going to be freshmen, but I think Mason is going to adjust well and I think Ryan just because he's so skilled. I could see them both playing a lot of minutes this year.
How have they played, when you've either watched them or played with them?
Ryan has been very good . He's very skilled. He's kind of like when I played as a freshman…well, even a little of my sophomore year. He's kind of a pick-and-pop guy, who can also step out and hit the three and create match-up problems.
How is his defense at this stage?
It's decent. It still needs work, but he's a lengthy guy, who can grab it.
How about Miles?
Yeah, he's coming along. He's put on some weight.
One person was wondering about your relationship with Kevin Love. Was there a rivalry or was that some local media hype?
Well, you know, playing against each other for the championship. I mean I don't know if there was a rivalry, but we were definitely going hard against each other, you know…and playing for a state championship and so I guess you could say that there was a rivalry.
Do you still talk to him?
No, I don't talk to him as much. No.
One person wanted to know, having a played a lot inside during critical times in the past, whether you are going to feel comfortable playing the three during critical situations for the upcoming season?
Yeah, I think so. I'm comfortable out on the perimeter.
One person was wondering how you feel the team will do this year and, if it becomes necessary, whether you will be comfortable taking the team on your back?
I don't think there'll be a burden. Just because we have a lot of good players. I think we'll have a good season …regardless. I think we'll have a really good team, but also a different type of team. We're going to have a lot of height and that's going to cause a lot of match-up problems. We'll be a very good team.
It should be really interesting to watch.
Yeah, definitely.
Will the 2010 recruiting class have any impact on you, in terms of your decision to stay or go in the draft? For example, if the staff assembled a great recruiting class, would that have any impact on your decision?
Probably not, no, probably not.
What would you like to do after basketball? Have you thought about that at all?
Yeah, a little bit. I'd definitely like to do something with my degree, once I'm finished playing. I would love to open my own restaurant.
Wow, really, I hadn't come across that in any prior article about you.
Yeah, and I'd also like to design some things.
Sort of related to that question, what would you like the audience to know about you away from the court?
Let's see. I like the outdoors a lot. I like to paint. I'm very active.
Sure, I was just reading Ken Tysiac's article about your trip to Europe. Can you touch on that?
Yeah, sure, I really like to travel, but it was kind of like the first time I had the time to travel there.
Have you traveled a lot domestically?
Yeah, I've been able to see a lot of the country though basketball.
Thanks a lot, Kyle.
Sure. No problem.