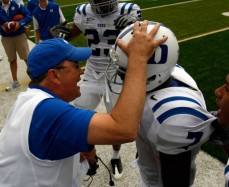 There was no shortage of second half heroics in Duke's 35-19 win over Army as the Blue Devils evened their record to 1-1 on the season.  An elder in Leon Wright and a cub in Sean Renfree scored two touchdowns apiece all of which came in a 28 point second half.
Renfree had one of those freshman debuts kids dream about.  On his first collegiate snap from center, Renfree went to a wide open Brett Huffman for a 14 yard score which put Duke up on their opponent for the first time this season 14-10.  It was the shot in the arm that Duke needed in that a lot of bounce returned to their legs.
The young freshman wasn't finished.  After an Army field goal cutting the lead to 14-13 and on Duke's twelfth possession of the game, Renfree found Donovan Varner in the corner of the end zone in a play that covered 31 yards.  Just like that, Duke was up 21-13 and just like that the kid wearing number19 in royal blue looked like HOF'er Johnny Unitas, uniform and production.
This of course brought about smiles  from the Duke sidelines including a sigh of relief.  The sigh was for good reason for Army came out of the gate and outplayed the Devils as the Duke offense looked disjointed.  If the Army game plan was to go after Thaddeus Lewis then they succeeded for they pressured him more often than not on his throws.
There was simply a lot of bad "mojo" for Duke in the first half including the proverbial missed field goal a four year or more Achilles heal for the program.  But Duke dodged a late bullet when Army missed a field goal as time ran out in the first half and Duke was fortunate to go to the locker room down 10-7.
That may have been the start for a momentum surge from the Devils, but when Renfree replaced Lewis and tossed a TD, it was clear to see that the tide had turned.
To seal the win, Duke senior Leon Wright intercepted two passes scoring on each one.  Amazingly, those two scores came on consecutive plays within less than a minute of one another.  Duke was also helped byVince  Ogohabasse, Ayanga Okpokowuruk and Vinnie Rey, all of whom made some huge plays.
It was quite simply a day where everything went right for one team in each half, but Duke half was by far the most impressive.  Despite being out gained in the offensive stats Duke found some kids to make some big plays today and you could see the chemistry coming together where both senior leadership and freshman talent played a big role.
Sidebar - No word yet on the condition of talented freshman wideout Conner Vernon.  Army scored a late TD on Dukes second and third team defensive players.  Duke will play their second consecutive and last game on turf this season when they travel to Kansas next week.  Check back for more football all day tomorrow ending with a talk with Cut.