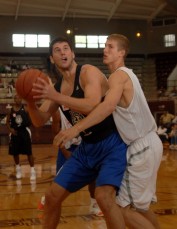 During the 2008-09 season, Brian Zoubek stepped up during several games and demonstrated he could be a key contributor for the Blue Devils. When Duke defeated Texas, 74-69, in the second round of the NCAA tournament, Coach Krzyzewski stated, in his post game comments, "I thought Zoubek did a great job on Pittman when he came in, which neutralized him."
One of Zoubek's best performances was during the ACC Championship game against Florida State, when the Blue Devils defeated the Seminoles 79-69. Coach Krzyzewski said, "...the last time we played Florida State, Brian did a great job on Alabi. We just told him to be ready. We're going to use you, and he came through." The last time Coach K was referring to was 12 days earlier when Duke defeated Florida State 84-81. Zoubek played 19 minutes in the game. "I thought Brian had his best game. He was a physical presence - I thought he played like a veteran tonight."
In an early season win over Xavier, Zoubek scored nine points, grabbed five rebounds, and blocked four shots in 18 minutes of action. He recorded a double-double of 15 points and 10 rebounds against Loyola, and was impressive in Duke's 85-44 dismantling of Maryland by scoring nine points and grabbing nine rebounds in 18 minutes.
With season averages of 11.9 minutes, 4.1 points, 3.7 rebounds, and .6 blocks per game, Zoubek obviously wasn't a stat stuffer, but he was a zealous player who relished his role and took advantage of every opportunity to contribute on the court. As a senior, Zoubek will attempt to build on last season's key performances and be a consistent physical presence. He has proven he can provide quality minutes now he needs to prove he can be a factor in every game.
Delivering passes out of the high post and altering opponent's shots with his physical presence were two strengths last season. While Zoubek only blocked shots at a rate of just over one every two games, he caused many more shots to be altered. He also excelled at the free throw line by making 82.8 percent of his attempts. One key to Zoubek increasing his scoring average will be to increase the number of trips he takes to the line. While 82.8 percent is very solid, Zoubek only attempted 29 free throws.
Zoubek arrived at Duke as the #25 ranked player in the high school class of 2006, according to RSCI compiled rankings, however his development into an ACC quality post player has been hampered by injuries. On July 9, 2009, between his freshman and sophomore seasons, Zoubek suffered a fifth metatarsal fracture in his left foot that required surgery. He re-injured the foot in early January 2008, which resulted in a second surgery at the end of the season that required extensive rehabilitation over the summer and prevented Brian from focusing on basketball specific workouts prior to his junior season.
This past summer Zoubek has been healthy so it is a realistic assumption he has been focusing on improving specific skill sets and will enter his senior season in the best shape, from a basketball skills perspective, of his career. At the Greater North Carolina Pro-Am event this summer, Zoubek participated in a couple of games scoring 15 and 16 points.
With only three recruited guards on this season's roster, Duke will be playing a larger line-up out of necessity. Kyle Singler will be playing on the wing after spending his first two seasons as a post player. Brian Zoubek will be competing with Lance Thomas, Miles and Mason Plumlee, and Ryan Kelly, for frontcourt playing time. The competition should be fierce but a now healthy and experienced Zoubek is expected to be a factor in the post for the Blue Devils. He will see an increase in minutes on the court and Duke fans will see Box Scores with bigger numbers in Zoubek's row.
The 2009-10 season will be Zoubek's last as a Blue Devil and everyone can be assured the 7 footer is going to make the most out of every opportunity to influence the outcome of games and contribute to Duke advancing deep into the NCAA tournament.